T-Motor F7 Stack – F7 FC, F45A V2 3-6S 4-in-1 ESC Combo
T-Motor's powerful F7 Flight Controller combined with the F45A V2 3-6S BLHeli_32 4-in-1 ESC will give you optimized performance and seamless integration in your electronics stack.
T-Motor F7 Flight Conttmotor f4 + f45roller
T-Motor's first F7 Flight Controller has arrived! Logical layout, designed to work seamlessly with the T-Motor F45 and F55 ESC.
Specifications
MCU: STMF722RET6
Gyro: MPU6000
Memory: 16M
Input Voltage: 12v-25-2v (3-6S)
BEC: 5V/2A
Dimensions: 37mm x 37mm
Mounting Holes: 30.5mm x 30.5mm
Weight: 7.4g
Firmware Target: TMOTORF7 (Betaflight)
T-Motor F45A 3-6S BLHeli_32 4-in-1 ESC
Updated to new layout with pin harness on the heatsink side. LED is also now included like in the F55A Pro II.
This ESC is T-Motor's 4-in-1 version of their popular F45A ESC. This 4-in-1 ESC packs 45A into an industrialized PCB layout made with premium features such as a 32bit main control chip, BLHeli_32 firmware, and 6s support.
The F45A 4-in-1 comes with a heatsink attached to keep heat away from sensitive electronics.
Another small bonus is the 4 x motor wire PCBs that come with this ESC. These go on your quad arms and help prevent damage to your motor wires from prop strikes or other damage. A neat little touch to include them.
Features
32bit Main Control Chip: Compared with traditional MCU of 8 bit, 32bit stm32f051 main control chip enjoys the advantage of fast computing speed and multiple functions.
Fast Response Speed: Prompt and accurate response on throttle signal receiving for the euphoria from zero lag operation.
Original BLHeli_32 Firmware: Original BLHeli_32 firmware with powerful performance and diverse functions capable of ESC parameter setting and firmware upgrading makes the ESC far more reliable and efficient.
Specifications
Model No: F45A 6S 4IN1 32bit
Con. Current: 4*45A
Peak Current (10S): 4*53A
Lipo: 3-6S
Weight: 18g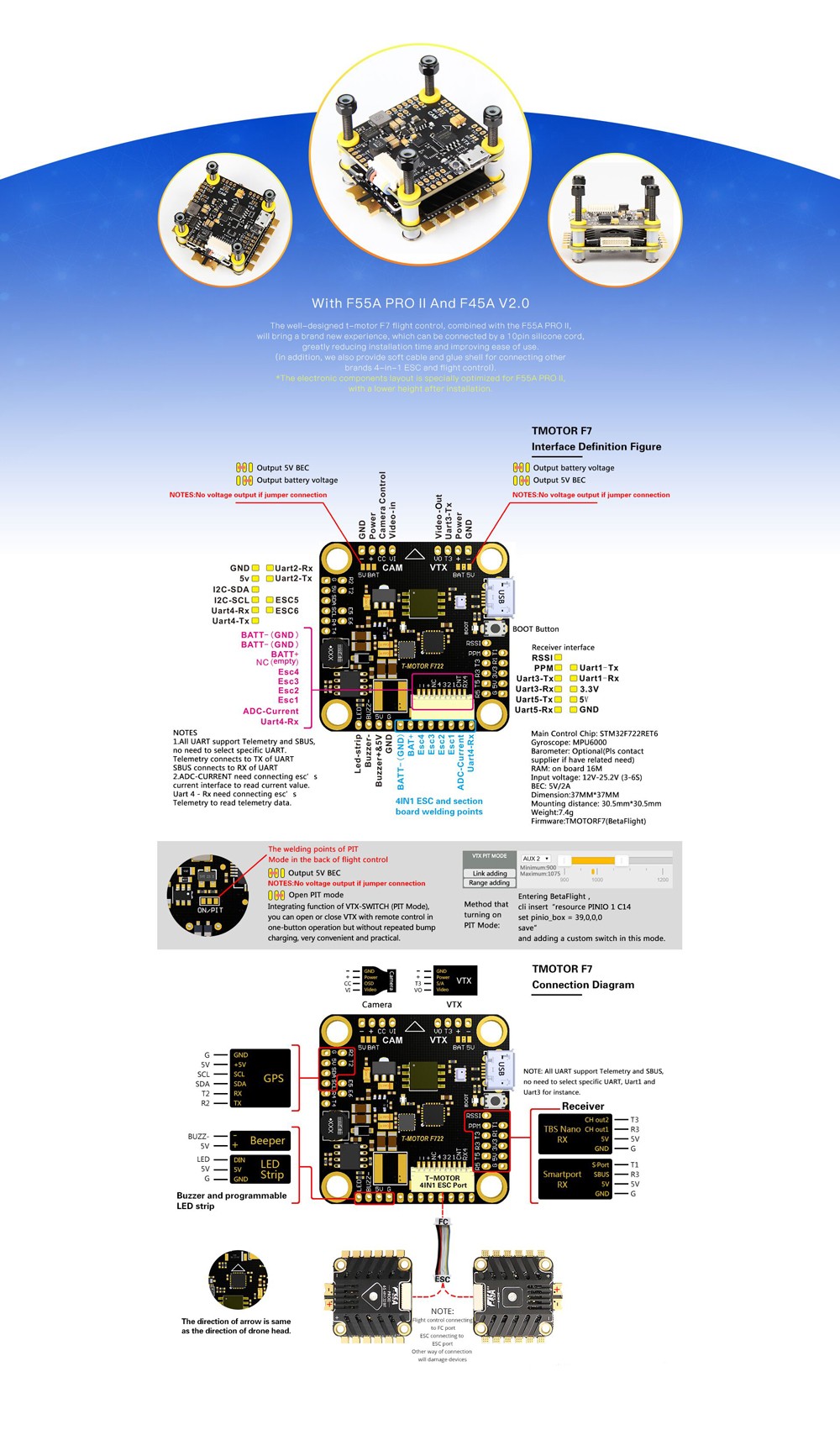 Includes
1 x T-Motor F7 Flight Controller
1 x T-Motor F45A 3-6S 4-in-1 ESC
1 x XT-60 Pigtail
1 x Insulation Board
4 x Link Board
4 x M3x30 Screw
2 x FC to ESC Cable
4 x Non-Slip Nut
16 x Spacers
1 x Capacitor