Lumenier Multi-Mount RGB LED Tail Light + PDB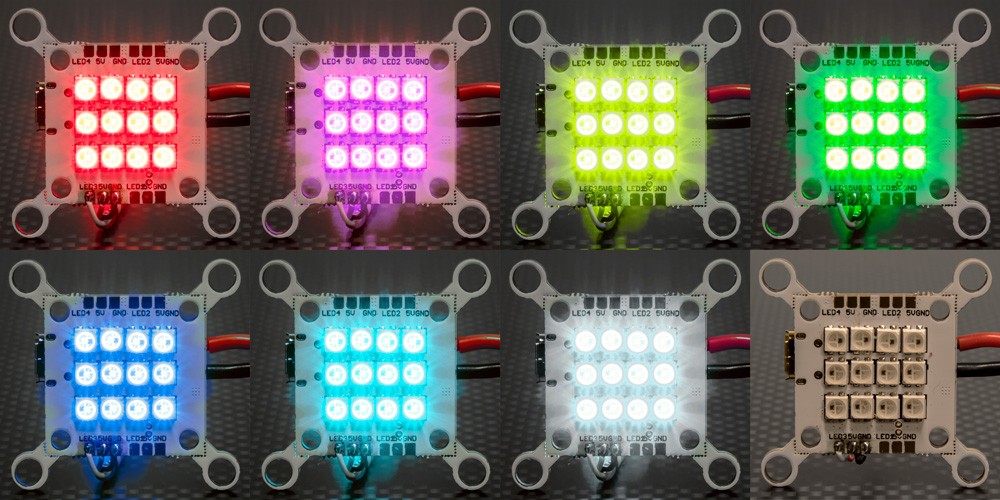 Lumenier's orignal RGB LED Tail Light was a step forward towards making LEDs more functional and accessible to the FPV consumer. This new LED Tail/PDB takes all the best parts of the original Tail Light and add even more features!
The Lumenier Multi-Mount RGB LED Tail Light + PDB gives you ultra-bright RGB LEDs as you would assume, but what makes it different than other simple LED boards?
You can directly solder additional RGB LEDs to the board, such as four arm-mounted LED strips to maximize brightness and visibility.
The onboard micro processor has pre-programmed patterns and colors that you can change with just the press of a button. This will control the LED board as well as accessory LEDs you may have conencted for a uniform color or pattern.
Like to write code? The micro USB connection allows you to program and upload your own LED functions!
The board can be mounted in many different ways. You can include it in your electronics stack with its 30.5×30.5mm or 20x20mm mounting holes, or simply zip tie it to the back of your quad as a rear tail light. Be creative, mount it in just about any way you want!
The LED Tail Light stores the last setting it was in when it is power cycled. One of the modes of the LED Tail Light is an "OFF" mode that turns all LEDs off.
You Can Also Use The Lumenier PDB To Regulate Your Quadcopter's Power Rail's
Specifications
Programs: 13 pre-programmed colors / patterns
Dimensions: 35mm x 35mm x 5mm or 25mm x 25mm x 5mm after breaking off tabs
Weight: 5g
Power: Onboard 5v/3A regulator (5-26v direct input)
Includes
1x Lumenier Multi-Mount RGB LED Tail Light
1x Silicone wire pack