SP Racing H7 400Mhz EXTREME Dual Gyro Flight Controller
The SP Racing H7 EXTREME flight controller features a 400Mhz H7 CPU that runs twice as fast as the previous generation F7 boards. A fast control-loop is what you need for perfect flight performance, the H7 at 400Mhz gives you all the processing power you need.
The SP Racing H7 EXTREME has an integrated OSD (on-screen-display) and PDB (power distribution board) and features all the latest technologies available.
The H7 EXTREME features real-time simultaneous dual gyros giving you super accurate response even before you even think about adjusting your filter settings. Don't accept ancient and slow gyro sensors!
The FC features two logging choices, both of which are better and faster than seen anywhere else. Either use the onboard 128MB flash chip or use the MicroSD card socket. Both the flash chip and the SD Card are connected directly to the CPU using separate parallel bus technology (QSPI 4bit and SDIO 4bit respectively). Other FC's either have small slow serial flash chips or SPI connected SD Card. Using parallel bus technologies further decreases the load on the already-fast new H7 CPU! Low CPU load = faster response, even with all the peripherals and logging enabled.
The FC has the new BMP388 barometer sensor, which is smaller, more accurate and less sensitive to drift than previous baros, if you want altitude related features the BMP388 is a must! Combine the H7 EXTREME with an external GPS receiver for 3D positional data.
Features
Extreme Flight Performance
Ultra-fast H7 CPU
Simultaneous DUAL GYRO with a TWIST, literally!
128MB Built-in QUAD SPI flash
Dual Dedicated SPI sensor connection
MicroSD via SDIO 4-bit Bus
Boot, run an upgrade from SD card!
Microphone and PID-Audio
BMP388 Barometer
2-6S LiPo Support
Additional Features
RPM Filter & Bi-Direction DSHOT
OSD with customizable layout
Multi-VTX support
Current Sensor
DSHOT and OneShot ESC support
PitMode / Team-Race-Ready
USB
Broad RC receiver support
Programmable LEDs
PCB Cut-outs for battery wires
Boot Button
Settings / VTX Button
Configurable
Expansion Port
Developer Friendly
Battery Monitoring
Buzzer
Telemetry support
Telemetry enables audible and visible ground-station or receiver based alarms, warnings, information gathering and logging of FC data.
5V BEC Power supply
Camera OSD control
Low Profile
Built-in Power Distribution
GPS Ready *
Race Timing Transponder *
Designed by Mr. Cleanflight!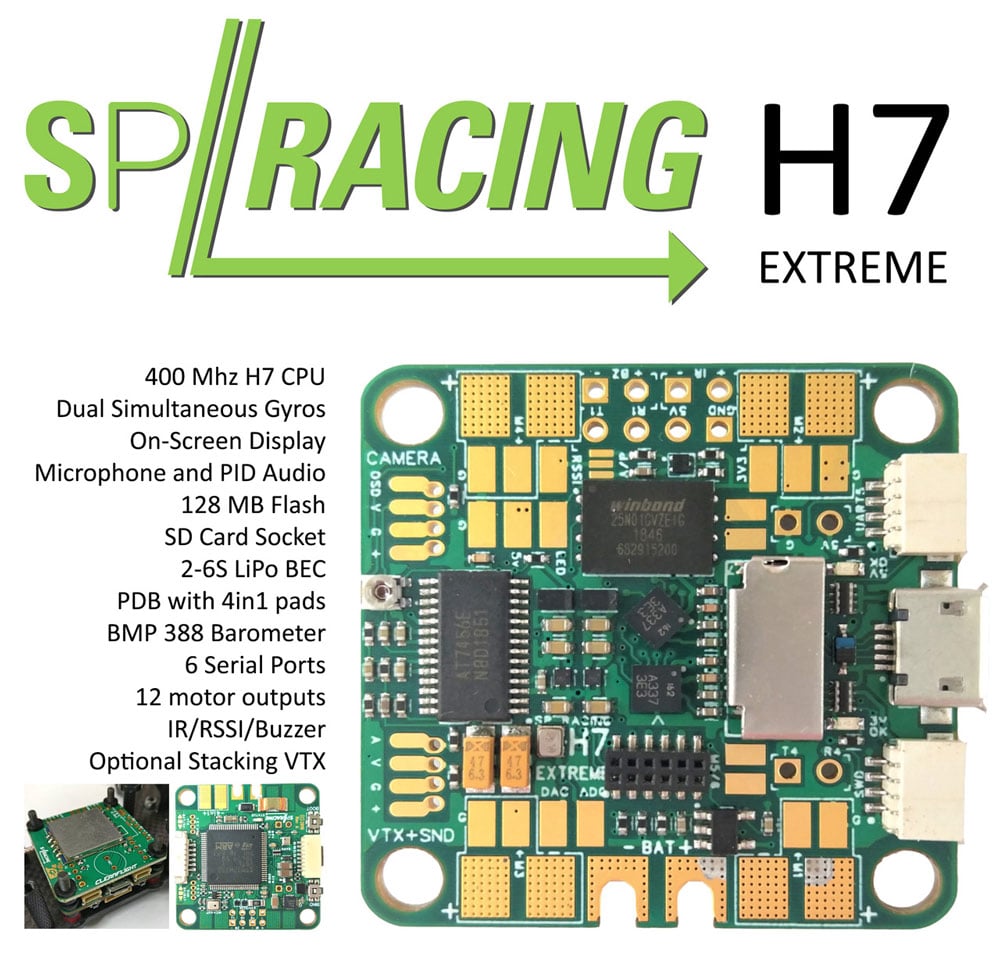 Specifications
STM32 H7 400Mhz CPU (1MB Ram, 128k flash)
128MByte Flash (for firmware, config and Blackbox logging, 4-bit QuadSPI not 1-bit SPI)
Dual Gyros (1xSPI each, with separate interrupt signals, 32khz capable)
BMP388 Baro (I2C + interrupt)
OSD (dedicated SPI)
Microphone
PID Audio
SD Card (4-bit SDIO not 1-bit SPI)
Integrated PDB.
110A Current Sensor
2-6S BEC
TVS Protection Diode
Dedicated 500ma VREG for Gyros, with gyro noise filter capacitors.
Second 500ma VREG for CPU, Baro, Microphone, etc.
IR transponder
Buzzer circuitry
RSSI (Analog/PWM)
12 motor outputs (4 by motor pads, 4 in the middle, and 4 on stacking connector).
1x SPI breakout onto stacking connector
6 Serial Ports (5x TX & RX, 1x TX-only bi-directional for telemetry)
Status Led
LED strip support (with well-placed connection pads).
Boot Button (Side press)
Bind/User Button (Side press)
Receiver ports (all usual CF/BF protocols, no inverter needed)
CAM OSD control and Video IN on CAM socket.
Video OUT + Audio OUT on VTX socket.
USB with OTG capability (ID and VBUS connected to CPU)
SWD debugging port.
Bootable from SD Card or External flash.
Flashable from SD Card.
Solder-from-top design.
PCB Cutouts for battery wires.
Firmware: Betaflight 4.x+
Designed by Dominic Clifton, the guy that created Cleanflight.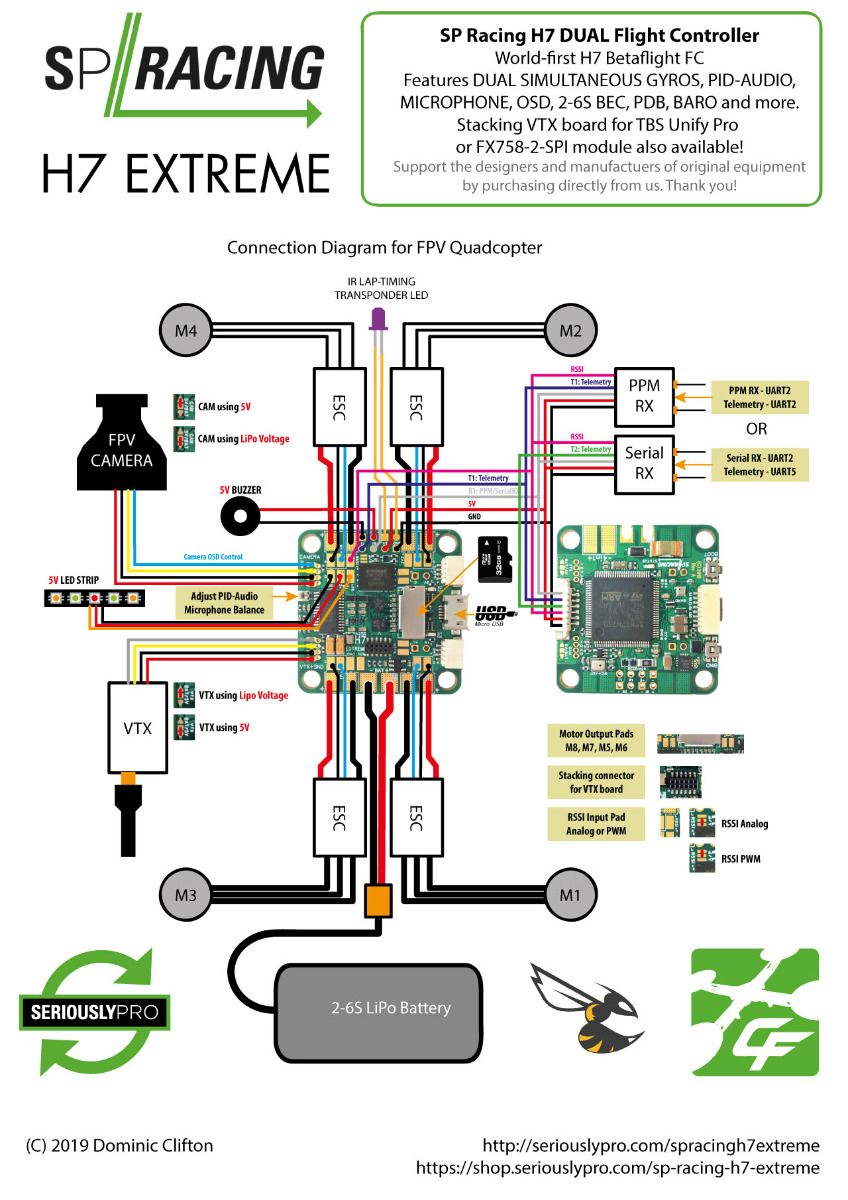 Includes
1 x SP Racing H7 EXTREME
2 x Stacking Connector
4 x Rubber Grommets
2 x 4p Wire Harness