FETtec KISS G4 Flight Controller
Check Out The MyFPV Adapter To Make Mounting Easy!
The FETtec FC G4 features the latest STM32G4 processor. Providing unparalleled processing power to your aircraft. Along with an MPU6000 gyro, two 5v BECs, 6-27V (2-6S) power handling, and a host of other features, the G4 from FETtec is on the cutting edge of Flight Controller technology.
Product information "FETtec FC G4 – N"
What does "N" version mean?
This product has  no  onboard analog OSD.
The functionality of the product is given and it can be used with other OSDs/ digital FPV systems as usual.
Here in comparison: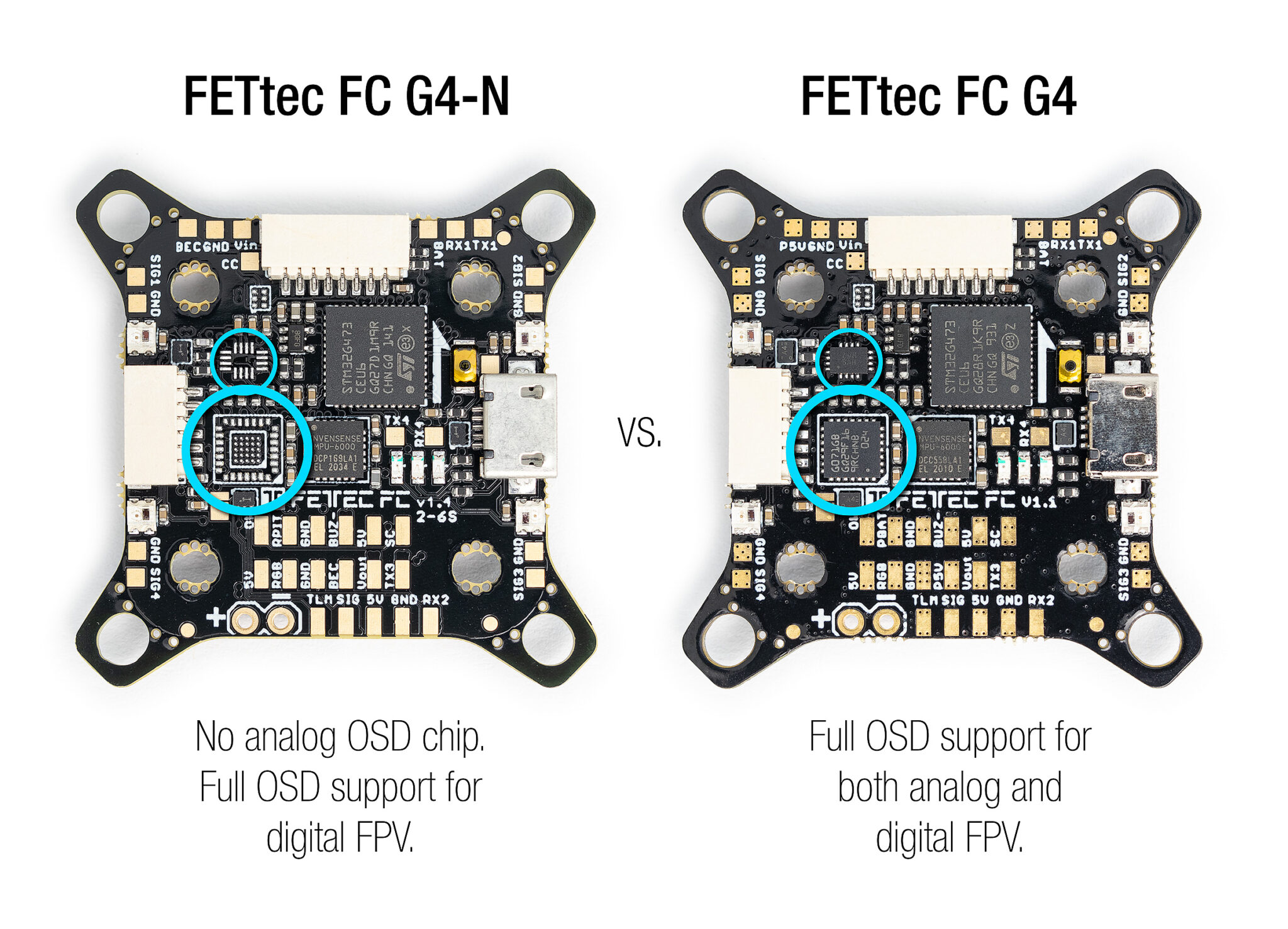 Characteristics:
Latest STM32G4 processor

170Mhz + Math accelerator

MPU6000

Designed for 6-27V supply voltage (2S-6S Lipo)

2x onboard BEC (max. 600mA each)

5V BEC for RX

5V/16V BEC for VTX (configurable and real Pit*)

2x 8 pin connector for solderless ESC connection

Connector 1: ESC signal 1-4, telemetry, VCC, GND

Connector 2: ESC signal 5-8 (depending on the selected UAV type 1-4), telemetry, VCC, GND

1x 8 pin connector for solderless connection to VTX, camera and OSD of the digital systems

real Pit* VCC, GND, video in, video out, BEC 5V/16V, VCS/TX3, RX3

2x 6 pin connector for serials

RX1, TX1, 3.3V, VCC, 5V, GND

RX3, VCS/TX3, RGB LED, VCC, 5V, GND

1x 4 pin connector for receiver

5 UART serials

UART 1 free
UART 2 occupied by receiver
UART 3 free
UART 4 ​​free
UART 5 occupied by ESCs / TLM / Onewire

4 ESC solder pads (Signal/GND) on each corner

Buzz pads

4 tiny RGB LEDs (color selectable)

Supported ESC protocols

PWM, Oneshot125, Oneshot42, Dshot150/300/600/1200/2400, FETtec Onewire

FETtec KISS firmware

Connector type: JST-SH-1mm
*real pit mode: switchable supply pad
Dimensions:
Maximum external dimensions: 37.2 x 37.2mm, without fastening straps 30 x 30mm

Arrangement of the mounting holes:

20 x 20mm with M2 mounting holes (upgradable to M3)

30 x 30mm with M3 mounting holes

30 x 30mm mounting hole tabs are removable to reduce the overall size of the FC

Height: 7.9mm

Weight: 5.37g
Firmware:
Scope of delivery:
1x FETtec FC G4 – N
1x open 8 pin cable (JST connector on one side)
1x open 6 pin cable (JST connector on one side)
1x open 4 pin cable (JST connector on one side)
Available downloads: