Matek F722-STD Flight Controller  w/ F7, 32K Gyro, BFOSD, Barometer
Specifications:
MCU: 216MHz STM32F722RET6
IMU: 32K ICM20602 gyro/accelerometer (SPI)
Baro: BMP280 (I2C)
OSD: BetaFlight OSD w/ AT7456E chip
Blackbox: MicroSD card slot (SD/SDHC)
VCP, UART1, UART2, UART3, UART4, UART5
PPM/UART Shared: UART2-RX
Battery Voltage Sensor: 1:10
Current Sensor: No (FCHUB-6S, FCHUB-VTX option)
BEC 5V: No (FCHUB-6S, FCHUB-VTX option)
LDO 3.3V: Max.300mA
I2C1 SDA & SCL: Yes
Camera control: Yes
DAC: Yes
WS2812 Led Strip : Yes
Beeper : Yes
RSSI: Yes
3x LEDs for FC STATUS (Blue, Red) and 3.3V indicator(Red)
7x PWM / DShot outputs without conflict
5x UARTs
1x Group of G/S1/S2/S3/S4 pads for 4in1 ESC Signal/GND
1x I2C1
4x pairs of corner pads for ESC Signal/GND connections (DSHOT compatible)
1x Side-press button for BOOT(DFU) mode
1x 16pin bottom mounted FFC Slot for FCHUB-6S or FCHUB-VTX connection
36x36mm PCB with 30.5mm mounting holes
w/ 2x 0.5mm*16Pin 5cm Flexible Flat Cable
w/ 4pcs M3 Anti-vibration Standoffs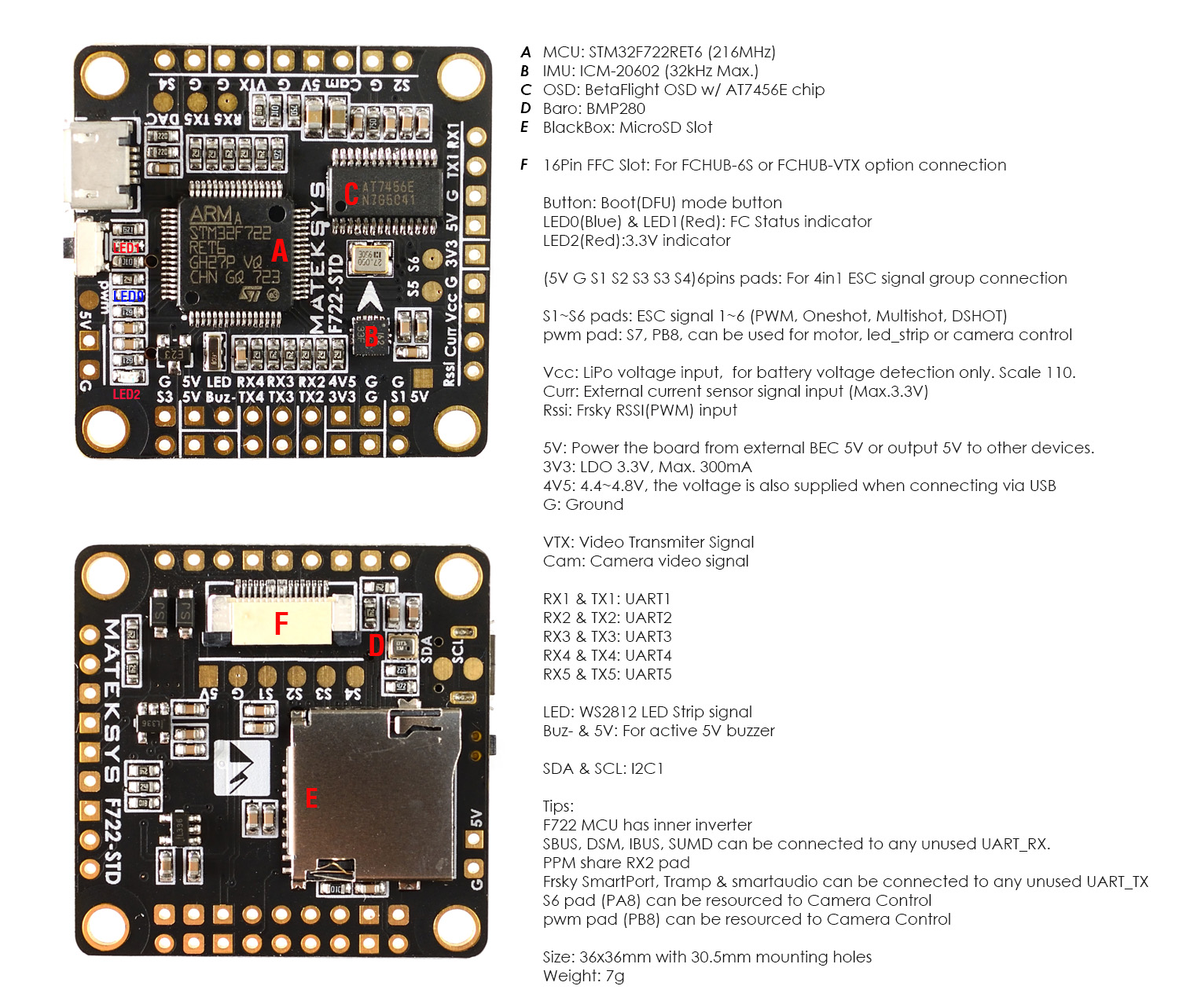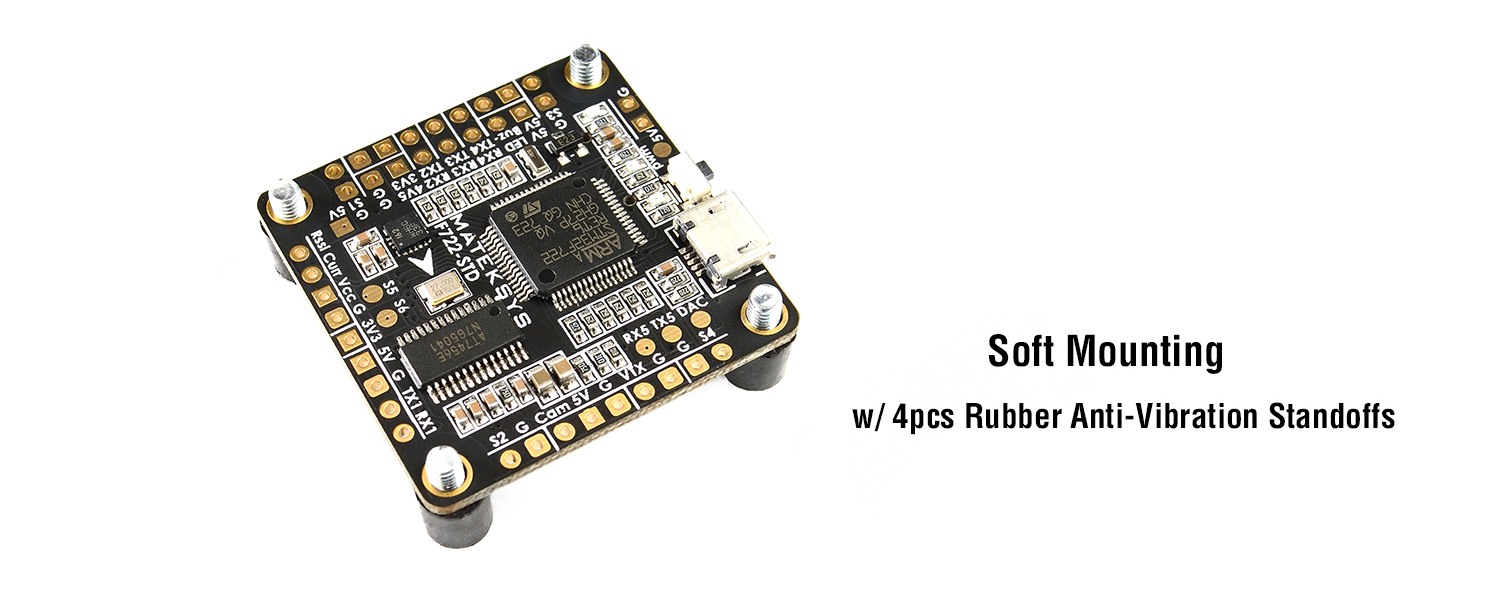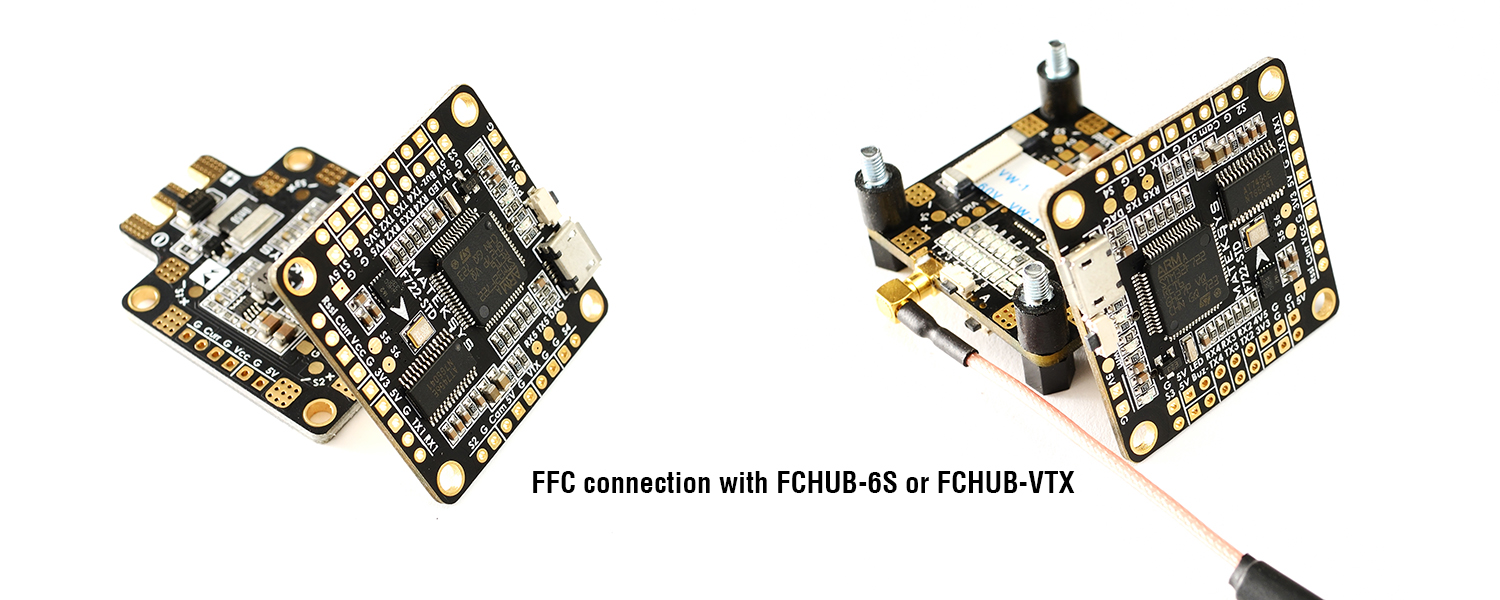 The F7 32K loop isn't supported now. Max. 32K/8K or 16k/16K with current BF3.2.3,  Max.32K/16K with last 3.3 build.
CLI "defaults" after reflashing
Rubber anti-vibration standoffs are necessary to avoid vibration woes.
Put a piece of sponge on the barometer to reduce the impact of airflow.
If you are using 5V VTX, Pls power the VTX via the 5V pad on FCHUB.  The ribbon cable can't bear heavy current.
SBUS, DSM, IBUS, SUMD can be connected to any unused UART_RX.
PPM share RX2 pad
Frsky SmartPort, Tramp & smartaudio protocol can be connected to any unused UART_TX
S6 pad (PA8) can be resourced to Camera Control
pwm pad (PB8) can be resourced to Camera Control, LED_STRIP, or Motor
SD Card, FAT32  C10, 1~32G,  But max.4G space can be used in Blackbox.