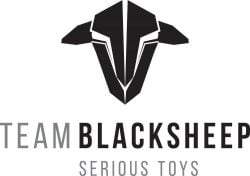 TBS STARDUST SB5 PRO – FPV Racing Drone Frame
Check out all of our Team Blacksheep products!
The TBS Stardust SB5, engineered and designed by Oskar Raudins!
HAND MADE & MOLDED
When cutting frames out of flat plates is not enough! All frames are molded by hand, starting with raw carbon fibers. With this process, the material reaches unparalleled stiffness, which translates to superior flight performance, resilience to vibrations, and insane robustness in crashes. This is the next step in race frame design!
This is an involved build. It does not include motor mounting screws or stack screws. It's a tight fit, but most of the 4in1 ESCs will fit. We strongly suggest the use of mounting boards for VTxs and receivers. Cameras should be micro-size.
PRO VERSION
The PRO version pays tribute to the material and the sheer beauty of carbon fibers. While the structural integrity is the same as the RACE version, there are several finishing steps involved to make this frame look like an absolute beauty. Paired with titanium screws for ultimate weight savings, this frame will not only win you races, but it will win your heart.
TECHNICAL SPECIFICATIONS:
Material: Special Handmade Carbon Fiber Composite
Motor to motor dimensions: 200mm
Motor mounting holes: 16mm & 19mm
Thickness of bottom plate: 4.6mm, +/- 0.1mm
Screws: M3 x 12mm Black, titanium
Frame weight: up to 65g including metal hardware
Props: Fits up to 5″ props
WHATS INCLUDED:
1 x Stardust SB5 molded carbon bottom plate
2 x Aluminium plates
8 x M3 x 12 screws (titanium)
2 x M2 x 6 camera screws
2 x M3 x 19 standoffs black (polished finish)