Hyperlow Airshot Frame
FREESTYLE      •       MIDRANGE      •       CINEMATIC      •       HD
Features:
Vert arm profile for minimal prop thrust obstruction with 4-in-1, or traditional flat arm for individual ESC mounting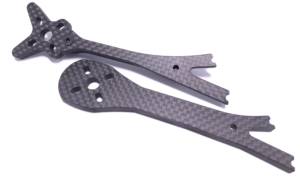 Front 30×30 and rear underside 20×20 GoPro mount positions allow for both for chase and follow footage.
(Currently shipping with black 3d prints. Gray shown for clarity)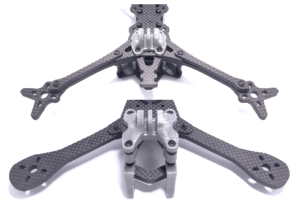 DJI HD capable with VISTA (AU optimized mounting coming soon)
(12cm cable recommended when placed at rear)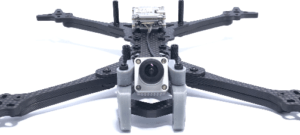 Component shelving keeps electronics isolated from carbon and allows for clean wire routing. Assembly bolts also provide direct 20×20 mounting.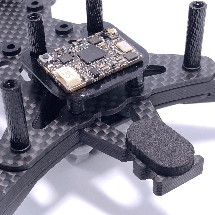 Custom UV RaceLites and RaceWire from TINYSLEDS included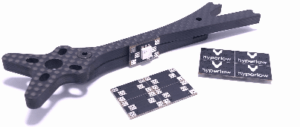 New construction design allows for modular front and rear cam and antenna choices
(Armattan cage compatibility and more coming soon)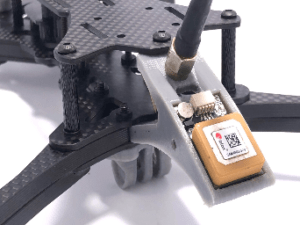 Optional front arm braces for increased durability.
(Fits both arm styles)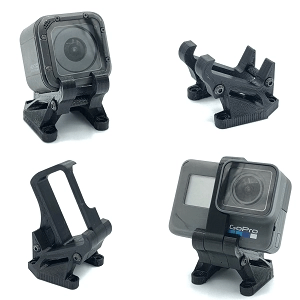 Kits also includes a Hyperlow microfiber lens cloth; an absolute must have to keep your footage crystal clear and streak free.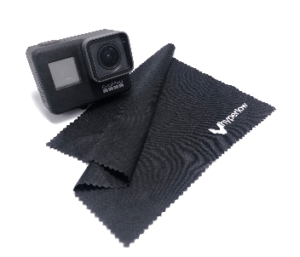 Specifications:
Frame weight: 125g – 135g depending on TPU and hardware used. (This is excluding GoPro mounts)

A flat arm frame is just 2g heavier than the a vert arm frame.

Prop size: up to 5.2″

Motor layout: slightly stretched x (8mm bias)

Props in DJI feed: barely

Props in view of GoPro: not at 5° of tilt with Hero 16:9 Super-view, nor at 4:3 wide.
Includes:
Carbon:
top plate 2mm x 1
bottom plate 2mm x 1
brace plate 2mm x 1
center piece 5mm x 1
cam bumper 5mm x 1
rear antenna lock 5mm x 1
rear standoff lock 5mm x 1
front arm braces 5mm x 2
rear 20×20 adjustable GoPro mount x 1
either
or
vert arms 5mm x 4 +
vert braces 5mm x 4
Hardware:
25mm standoff x 5
20mm standoff x 6
12mm flat head x 4
6mm x 6
8mm x 10
12mm x 4
14mm x 10
16mm x 2
22mm x 4
pressnut x 1
gummies x 4
Extras
racewire x 4
racelites x 4
ummagrip/or other pad x 1
antenna pad x 1
component shelves x 2
30×30 gopro mount x 1

m5 bolt with 3mm hex x 1
m5 locknut x1
micro fpv mounts x 1
immortal mounts x 1
straps x 2
zipties x 4
sticker x 1
microfiber cloth x 1