SP Racing H7 400Mhz NANO-S & NANO-E Flight Controller (Pick Your Version)
The SP Racing H7 NANO features the awesome new H7 CPU running at 400Mhz, has a 128MB flash for firmware and blackbox flight logging, the awesome 32Khz capable ICM-20602 gyro connected via SPI, 6 serial ports, 8 motor outputs, transponder and led outputs, 2xDAC outputs, 3xADC inputs, and an integrated 2-6S BEC.
The SP Racing H7 Nano is the most powerful 20×20 nano FC on the market. Extreme flight performance in a tiny package.
There are two versions: NANO-S is with-out connectors & NANO-E is with connectors.
Features
Awesome Flight Performance
Ultra-fast H7 CPU
Latest 32khz capable gyro!
128MB Built-in QUAD SPI flash
Dedicated SPI sensor connections
2-6S LiPo Support
8 motor outputs
6 Serial Ports
Additional Features
RPM Filter & Bi-Directional DSHOT
USB
Programmable LEDs
Developer Friendly
Buzzer
5V BEC Power supply
Expansion Port
Race Timing Transponder
Cleanflight logos and stickers
DSHOT and OneShot ESC support
Broad RC receiver support
Configurable
Battery Monitoring
Telemetry support
Camera OSD control
GPS Ready
NANO size and NANO weight!
Designed by Mr Cleanflight!
Specifications
STM32 H7 400Mhz CPU (1MB Ram, 128k flash)
128MByte Flash (for firmware, config and Blackbox logging, 4-bit QuadSPI not 1-bit SPI)
ICM-20602 Gyro (SPI with separate interrupt signal, 32khz capable)
2-6S 5V BEC
Battery Voltage Monitoring
3x ADC (RSSI, Current + 1x Spare)
TVS Protection Diode (fitted on NANO-E)
500ma 3.3v VREG for Gyros, with gyro noise filter capacitors.
IR transponder circuitry
Buzzer circuitry
RSSI (Analog only)
8 motor outputs (4 available on connector or pads, 4 more on pads only)
2x SPI breakout onto 12 pin stacking connector
6 Serial Ports (5x TX & RX, 1x TX-only bi-directional for telemetry)
Status Led
LED strip support (with well-placed connection pads).
Boot pads
Bind/User pads
Receiver ports (all usual CF/BF protocols, no inverter needed)
USB with OTG capability (ID and VBUS connected to CPU)
IO1 2xUART + I2C port (NANO-E only)
IO2 UART+SWD debugging port (NANO-E only)
2x DAC outputs (NANO-S only)
Solder-from-top design.
Firmware: Betaflight 4.x+
Designed by Dominic Clifton, the guy that created Cleanflight!
The H7 NANO-S is the single-sided version, with no connectors or cables.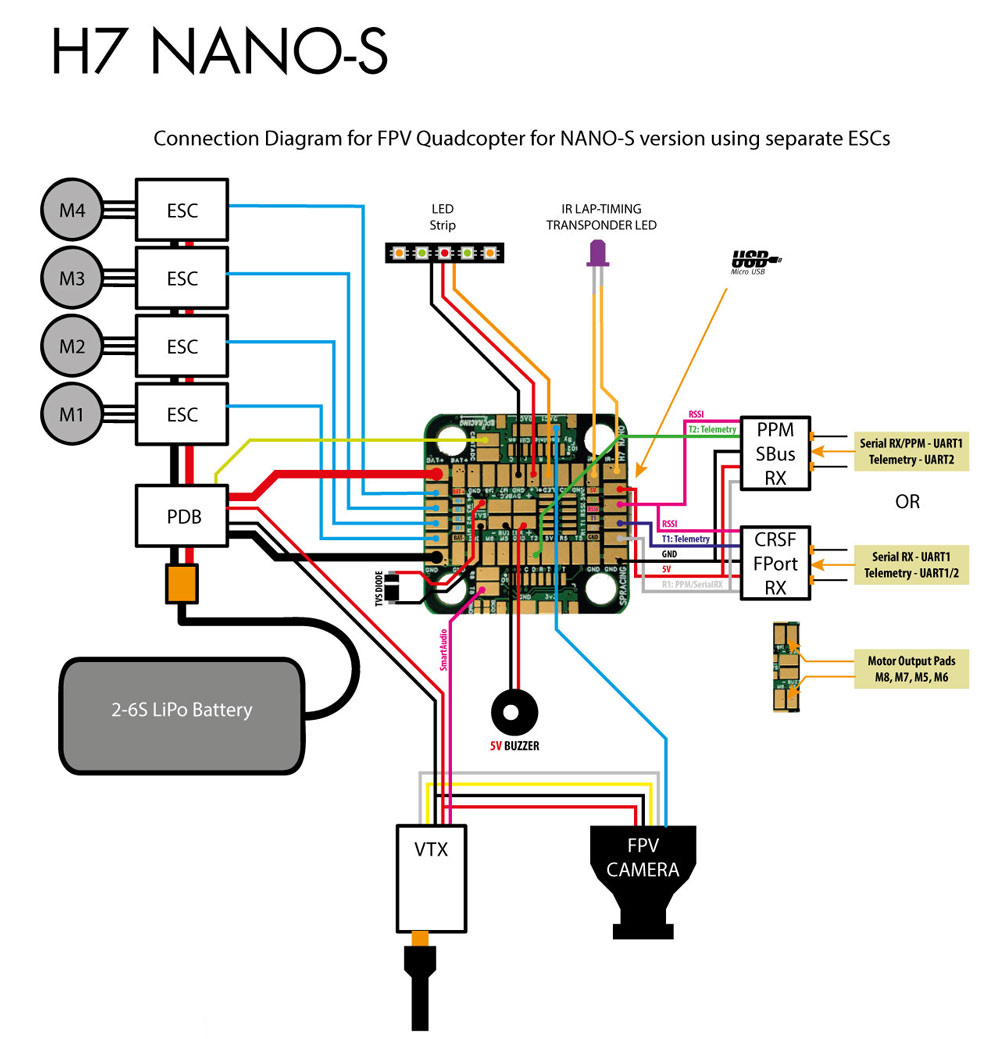 Includes
1 x SP Racing H7 NANO-S
1 x TVS Protection Diode
4 x Soft Rubber Grommets

There are two versions: NANO-S is with-out connectors & NANO-E is with connectors.