DarwinFPV HULK 45A 3-6S AIO Flight Controller + ESC
See all of our DarwinFPV Products! Take a look at all of our AIO Boards!
Feartures:
Great performance: This AIO uses high thermal conductivity silica gel inside, and the aluminum alloy shell to achieve stronger heat dissipation effect; because of this, it has excellent waterproof and dustproof performance, the waterproof level is up to IP67. It can be immersed in fresh water for more than 30 minutes and can be used normally. You can use it with various climatic conditions and harsh environments.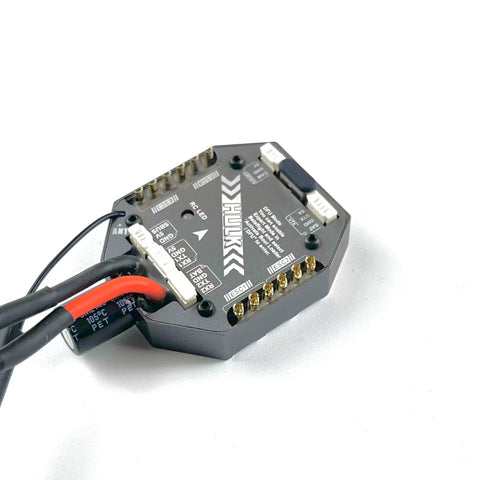 High reliability and durability: Built-in F411 FC, 6S-45A ESC, ELRS 2.4GHz receiver, each interface on AIO has to short-circuit protection function, even if one interface is protected due to some factors, other interfaces can be used normally.
Rich interfaces: This AIO reserves the plug-and-play interfaces of Analog CAM, Analog VTX, CADDX VISTA KIT air terminal, SBUS Port, and UART1 to meet the needs of different users.
Specifications: 
| | | | |
| --- | --- | --- | --- |
| FC MCU | STM32F411CEU6(100MHz) | ESC MCU | EFM8BB21F16G |
| IMU | MPU6500 | Input Voltage | 3-6S LiPo |
| OSD | Betafight OSD AT7456E | Continuous Current | 45A |
| RF Chip | SX1281(2.4GHz) | MAX Current (5 Seconds) | 55A |
|  Firmware Target | Betaflight__DARWINF4SX1280 | ESC Target | J_H_40 |
BEC Output
 5V/0.5A x 3 & BAT/0.75A x 2
Port Resources
2xUarts(1,2)
1x SOFTSERIAL
(Apply for VTX)
1xSBUS(RX1inverter)
| | |
| --- | --- |
| Size |                    L46.2mm x W39.5mm x H10mm |
| Installing Hole |                    25.5mm x 25.5mm(M2) |
| Weight |                                41.5g |
Please attention: 
① Seawater is highly corrosive, it is not recommended for use in seawater. Please wash it with fresh water immediately and then dry it once the drone touches seawater.
② Support 3-6S battery, remember not to plug the battery's positive and negative interface in reverse, otherwise it will burn out.
③ After receiving the AIO, first connect to a computer on Betaflight software to check whether the gyroscope and accelerometer are detected and whether the gyroscope attitude is normal.
④ Increase the throttle in Betaflight software to ensure the normal rotation and correct rotation direction of the 4 motors, and then install the propellers for a test flight; be sure to remove the propellers when pulling the throttle in Betaflight software to avoid accidents.
After confirming the above precautions without any problems, you can install the propellers and start flying!
The 4.3 firmware only supports ELRS2.0, if you want to use ELRS3.0, you need to upgrade the AIO firmware to 4.4. However, the 4.4 firmware is a development version, and there will be many unknown errors and risks. If there is a problem with the product after you flash the 4.4 firmware, we will not bear any responsibility. Please upgrade carefully.
(Notice: The updated firmware is named BETAFPVF4SX1280. If you insist on updating, please remember that you cannot use the previous CLI after the update. Please upgrade carefully).
 Package:
1 x HULK AIO
5 x Spare Cable
7 x Screws
3 x TYPE-C Rubber stopper
7 x SH1.0 Socket plug
1 x Sticker