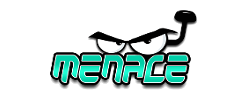 Menace RC Numskull Antenna 2.4Ghz LHCP Polarized Receiver Patch
Check out all of our Menace Products!
We also have this antenna in RHCP! 
The NUMSKULL is our first 2.4 GHz antenna for receiving FPV video.
Perfect for the latest 2.4ghz goggle modules and at home on a base station singularly or as part of a diversity receiving module.
Features
Circular Polarized for left or right hand
Designed for goggles or base stations
Specification
Frequency Range: 2370 – 2510 Mhz
Gain: 8.0 dB
Beam Width: 68° at -3db points
Left or Right Hand Circular Polarized ( LHCP or RHCP)
SMA Connector
Dimensions: 80mm x 73mm x 20mm
Weight: 32grams
Real World
Range in excess of 17.5km