BetaFPV Meteor85 Brushless Whoop Quadcopter (2S) – ELRS 2.4G
The name Beta85 Pro 2 and Meteor85 are both for this drone. We would like to use the name Meteor85 progressively.
Beta85 Pro 2, a new approach to the 2S micro formula which optimizes weight. This provides a smoother flight experience that's easier to control at high speed and easier on battery life as well. You have plenty of power to use both indoor and outdoor spaces as a small-scale acro playground. The weight savings also provide a handling advantage on the racecourse, allowing tighter turns and making it easier to hit gates.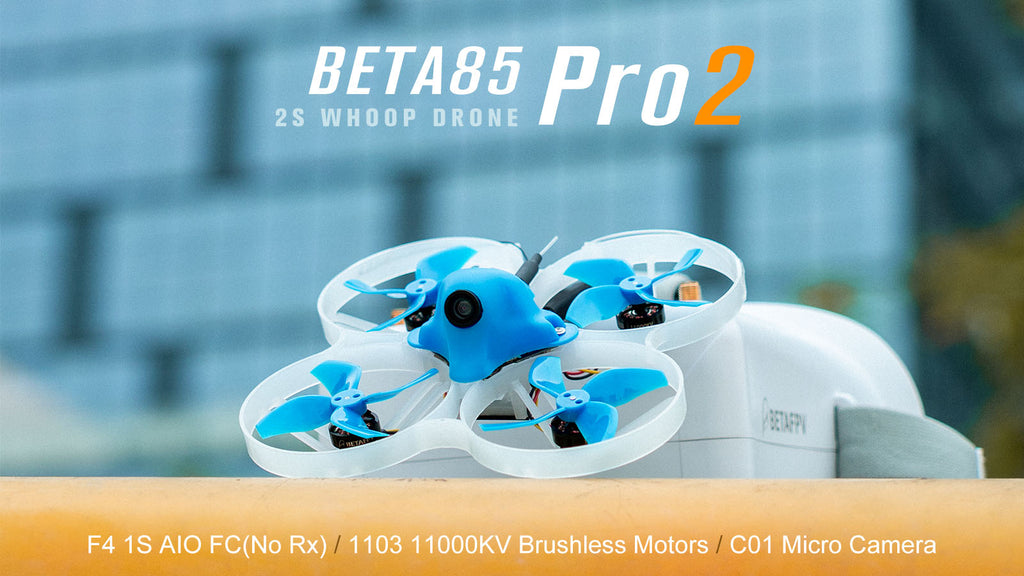 Inspired by Justin Davis & Nate Payne's ShutterBug85, this build is dramatically reduced weight and optimized the flight experience, and the acro performance is really awesome. Beta85 Pro 2 is the best combination for pilots, you do not need to assemble it by hand but also get more power on punch for acro mode.
ELRS 2.4G Version
ExpressLRS is the most popular radio link in 2021. ExpressLRS aims to achieve the best possible link performance in both speeds, latency, and range. Know more about the ExpressLRS project on Github or join the discussion in the Facebook Group.
In order to meet the FPV polit's requirement for ELRS whoop drones, the ELRS 2.4G version Beta85 Pro 2 is here. Comparison with the SPI Frsky version, what is the upgrade point on the new ELRS 2.4G version drone?
The FC board is the F4 1S 12A FC (ELRS 2.4G), which integrates BLHeli_S 12A ESC and SPI ExpressLRS 2.4G receiver.
5.8G VTX M03 could provide highest 350mW output power. So both the radio link and FPV video link could be long enough.
It comes with Caddx Ant FPV camera and nano HD canopy.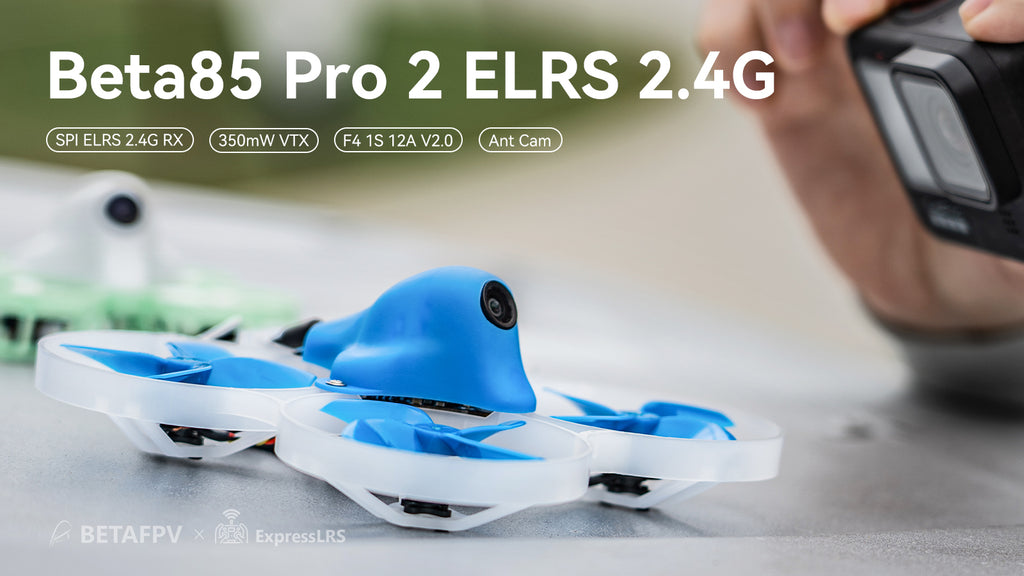 How to Bind with Betaflight FC with SPI ExpressLRS Receiver.
Bullet Point
Beta85 Pro 2 starts a new era of 2S whoop, which could fly real acro, like a larger quad, but is still safe enough, light enough, and durable enough to fly anywhere, especially suitable for racing.
With the high-performance STM32F411CEU6 processor FC boards and tuned betaflight_4.2.0_STM32F411, everyone could fly the Beta85 Pro 2 drone like a racing pro.
With durable and light enough frame. A total weight of 42g gives pilots a good balance of weight and a nice punch on a 2S battery.
Whole drone no soldering or tinkering necessary. Customized lightest 1103 11000KV motors with cable connectors. Just plug and play.
300mAh 2S high rate battery is recommended by default. The drone comes with an XT30 cable, convenient for installing the 2S battery. But pilots could also use their whoop batteries with a replaced power cable. Optional and affordable.

Specification
Weight: 42g (without battery)
FC: F4 1S 12A FC (ELRS 2.4G)
Motors: 1103 11000KV with connector
Props: Gemfan 2020 4-Blades Props
Camera:  Caddx Ant Camera (only for ELRS 2.4G version)
Frame: Beta85 Pro2 Frame
Canopy: Canopy for micro camera / Canopy for Tiny Whoop Drone
Receiver Option: SPI Frsky FCC / Futaba S-FHSS / TBS Crossfire / ELRS 2.4G
VTX:  M03 25-350mW VTX (only for ELRS 2.4G version)
Battery: 300mah 2S Battery
Flight time: 3minutes with 300mAh 2S battery
Props out
The Beta85 Pro 2 drone comes with "props out" in default. Why do we need "props out" direction?
Default Betaflight props direction, quadcopter dips, and "washes out" in hard corners. With reversed props or "props out", no more dipping even in hardest cornering.