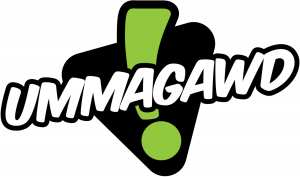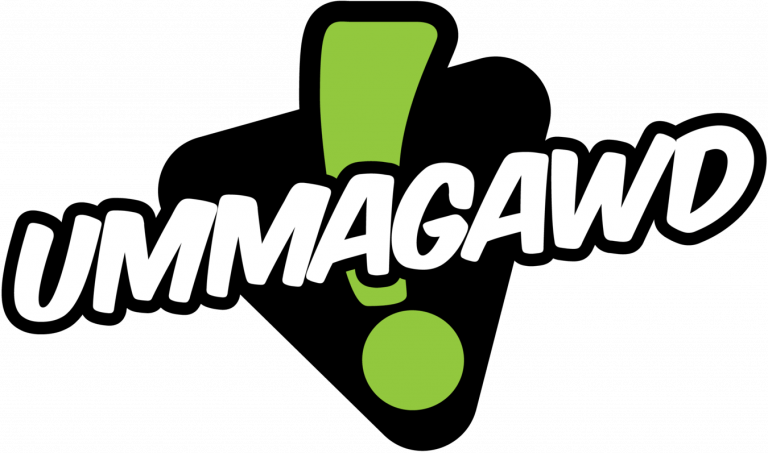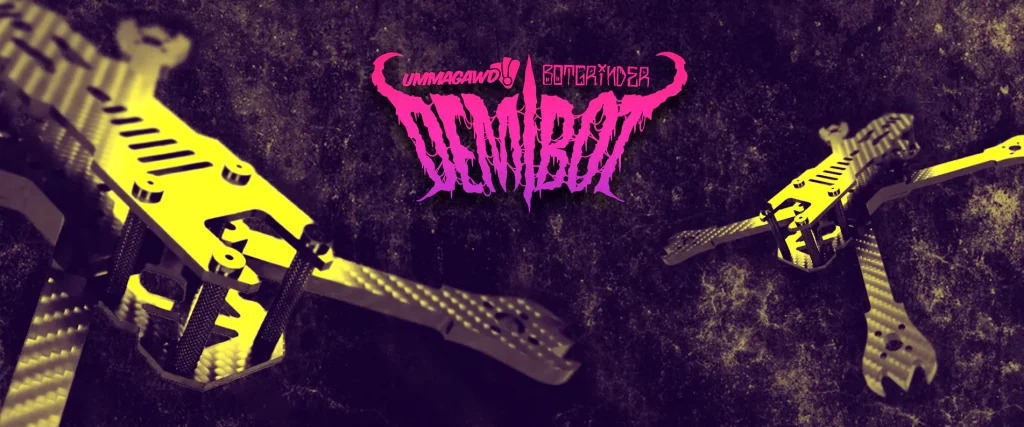 Ummagawd Botgrinder Demibot 5″ Freestyle Frame
"When Botgrinder and the Ummagawd Company get together, magic happens."
We've made a frame that can not only survive the most brutal bando gauntlet imaginable but can also rip the smoothest freestyle flow you can ever experience.
The same details that make this frame nearly indestructible, also make it one of the smoothest flying frames available. With 6mm thick arms, held together by 3mm thick plates, and 6mm OD standoffs, this frame bolts solidly together into one sturdy mass, which makes gyros very happy.
We have spare arms ready to go if you crash! So fly hard!
The great durability, flight performance, and sick looks of the DemiBot can be attributed to a few things working very well together. The beefy 6mm arms, mated together with a 6mm thick central block, all held together with 3mm thick plates, make the core of this frame a significantly dense mass. The Demibot is definitely no ultralight, but that's also why it takes a beating and flies just so damn smooth.
We chose the center block style of retention to support a few key features.
The block facilitates an interface in which all 4 arms meet in the middle. This makes the entire assembly act like one solid piece but with juuust the right amount of energy loss (aka resonance damping).
If you can manage to break an arm, it can be replaced by removing just ONE bolt. This is achieved by having each arm wedged between the adjacent arm and the center block. Therefore it only needs one bolt to keep it there.
With some clever design tricks, this true-X frame maintains hardware independence between the flight stack and the arms while keeping the electronics in the center. We've included press nuts for the flight stack, as well as an installation tool (M3 screw and washer) so that you easily seat it yourself. You just choose which mounting configuration fits your electronics and press in the nuts.

 
And about those electronics, did we mention you can fit a 30×30 VTX in the rear? This means you can basically fit any size or type of VTX you want. Your choice. We won't judge. 
Specs:
Arms: 6mm
Top Plate: 3mm
Bottom Plate: 3mm
Mid Plate: 3mm
Standoffs: 6mm OD 7075 Aluminum
FC Mounting: 20×20 and 30.5×30.5
VTX Mounting: 20×20 and 30.5×30.5
Frame Weight: 165g
Frame Kit Includes:
1x Top Plate
2x Arms
1x

  

Bottom Plate
1x Mid Plate (with a bag of press nuts)
1x Hardware Kit
1x Ummagrip Battery Pad
2x Kevlar Battery Straps
1x TPU FPV Camera Mounts