ELRS Lite Receiver – 2.4G Tower Antenna
Check out all of our BetaFPV Products!
BETAFPV Lite receiver is based on the ExpressLRS project, an open-source RC link for RC applications. ExpressLRS aims to achieve the best possible link performance in both speeds, latency, and range. This makes ExpressLRS one of the fastest RC links available while still offering long-range performance.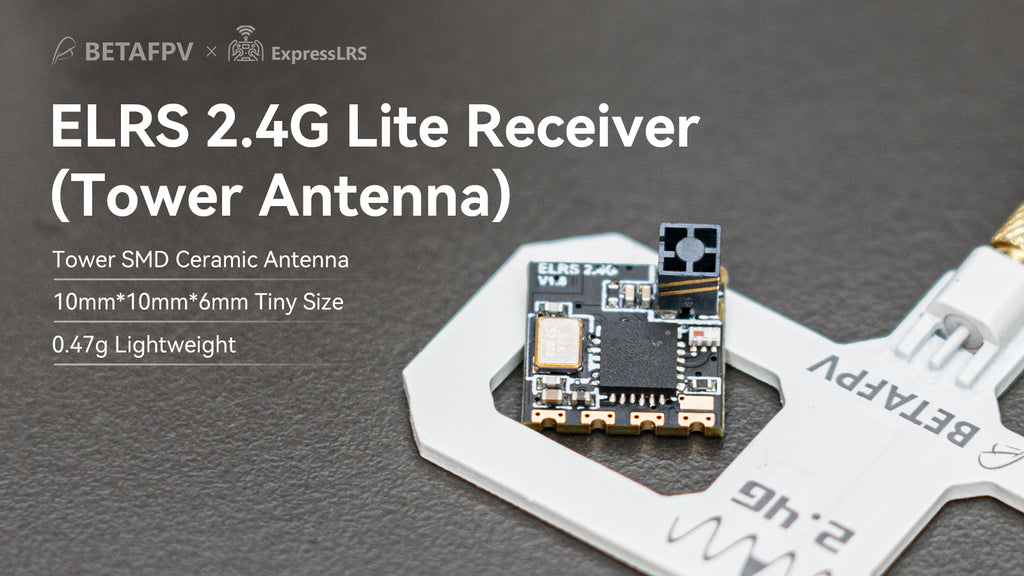 Nano RX or Lite RX
What is the major difference between the Nano receiver and a Lite receiver?
The Nano receiver (2.4G version) is the first and (so far) the only receiver with a power amplifier (PA+LNA). It has 100mW telemetry output and better sensitivity when longer range. Lite receiver doesn't have a PA/LNA on them, so their telemetry power is as what the RF chip SX1280 came with 17mW.
Besides, the Nano receiver comes with a normal external Dipole T antenna. Lite receiver has SMD ceramic antenna and in theory, it would have less range.
High recommend the Nano receiver if the space is enough. On 65-85mm whoop drones with limited space and need lightweight, the Lite receiver is a better choice.
Tower Antenna
| | | |
| --- | --- | --- |
| | Tower Antenna | Flat Antenna |
| Weight | 0.47g | 0.53g |
| Size | 10mm*10mm*6mm | 11mm*10mm*3mm |
| Gain | 3.3dBi | 3.2dBi |
| Radio Efficiency | >70% | >80% |
| Return Loss | <-7 | <-7 |
| Recommend Drone | Whoop Drone | Whoop Drone |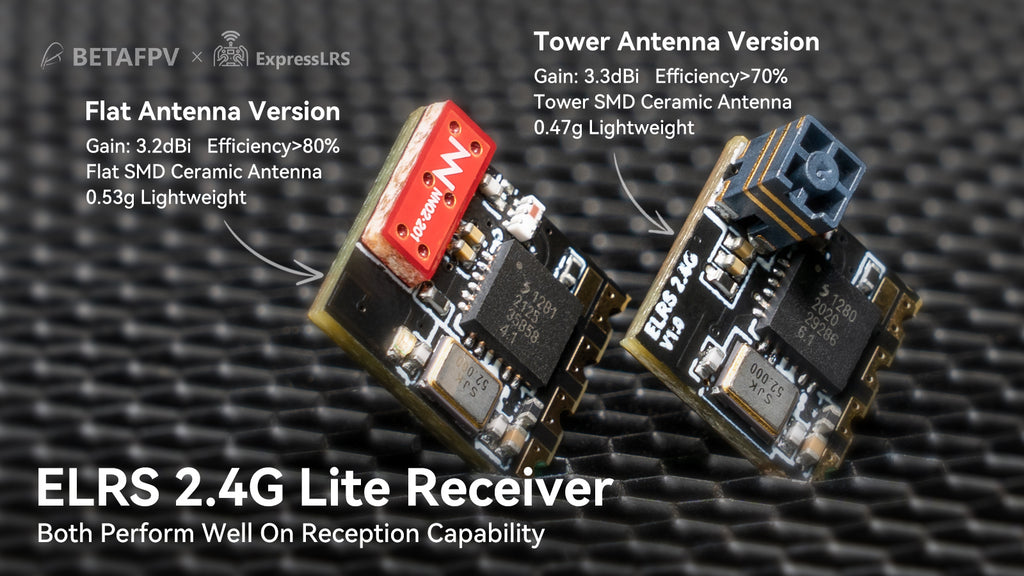 Specification
Weight: 0.47g (with Tower SMD ceramic antenna), 0.53g (with Flat SMD ceramic antenna)
Size: 10mm*10mm*6mm (Tower), 11mm*10mm*3mm (Flat)
MCU: ESP8285
Telemetry power: 17mW
Frequency bands (Nano receiver 2.4G version): 2.4GHz ISM
Input voltage: 5V
Antenna: Integrated SMD ceramic antenna
Diagram
Lite receiver with tower antenna 2.4G version diagram as shown below.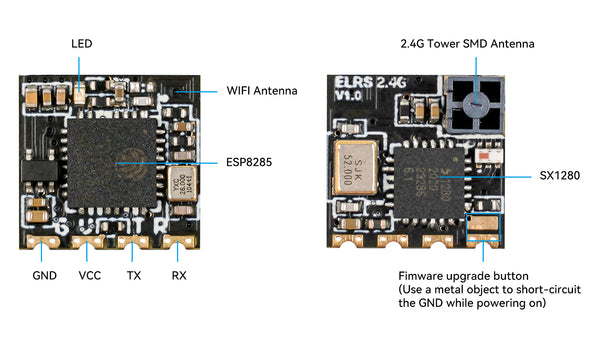 Note: The firmware version of the Lite receiver manufactured by our company is ELRS 1.0.0; ELRS Innovative team has officially released version 1.2.0, which is not compatible with the 1.0.0 version. We suggest our customers upgrade this receiver's ELRS version to 1.2.0 if needed. Significantly, the TX module and receiver have to be in the same ELRS version, otherwise, the frequency cannot match successfully.
Note: Please upgrade via cable if you flash ELRS V1.1.0 firmware to the lite receiver. Otherwise, the lite receiver will enter in a boot loop if upgraded ELRSV1.1.0 via WIFI.