Sequre SQ-001 60w Adjustable Soldering Iron Blue & Storage Bag
Soldering Kit Includes:
1 x SQ-001 Controller( Blue)
4 x Solder Tips(TS-B2,TS-BC2,TS-D24,TS-I)
1 x Safety Instructions
1 x Hex Key
1 x User Manual
1 x DC5525 XT60 Power Cable
1 x Mini-bakelite Stand Holder
1xTool Bag
1x Lead free solder wire
1x Paste flux
1x Tin absorbing wire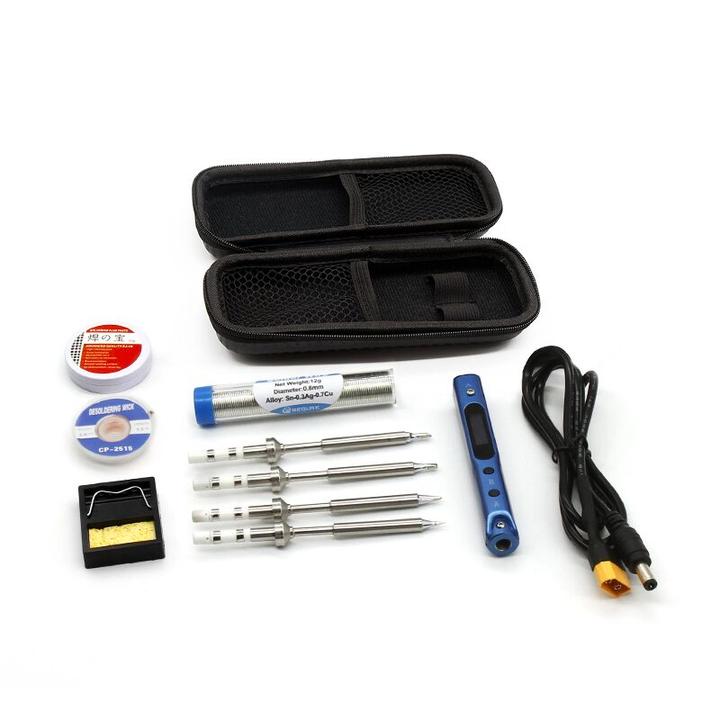 Note:
1 pcs lead free solder wire, 1 Paste flux and Tin absorbing wire are free gifts. Total Value:$ 8.79.
SQ-D60B Soldering Iron Details :
Model: SQ-D60B ( Digital tube version )
Power: 60W
Power supply: DC12-24V TYPE-C interface
Temperature range: 100-400 ℃ (Adjustable)
Features:
The SQ-D60 uses TYPE-C power supply, with humanized functions such as automatic sleep shutdown, induction wake-up, etc., it is a portable intelligent constant temperature electric soldering iron.
The operation is simple and easy, the temperature rises quickly and stably, and the round and small body is full of simplicity and luxury. It is an essential welding tool for electronic players.
Control terminal:
SQ-D60 adopts integrated TYPE-C power supply interface. The circuit design is stable and safe. The built-in STM32 processor, dual temperature sensor and motion sensor are the perfect combination to make SQ-D60 freely switch between various temperature ranges. Wake-up, over-temperature and high-pressure alarm, etc., truly realize intelligent intelligent constant temperature electric iron.
Heating end:
* The heating end uses an internal heating core
* Temperature range:100-400 ℃ (Adjustable)
* Temperature stability range: ± 5 ℃
SQ-001 Soldering Kits Details
Mini Soldering Iron Controller:
SQ-001 is based on 304 stainless steel nested ABS + PC shell, Integrated special power interface, Safety circuit design, Antistatic structure.
The perfect combination of embedded STM32 processor, dual temperature sensor and acceleration transmitter.
Make SQ-001 realize intelligent temperature control between 100-400 degrees, more stable temperature, instantaneous temperature rise, automatic sleep, over temperature alarm and other functions.
Mini Soldering Iron Heating end:
The heating end adopts internal heating core
Factory preset temperature: 300 ℃
Temperature stability range: ± 2%
External independent power supply: DC 5525 power interface, suitable for DC 12-24v notebook power supply, vehicle power supply and mobile power supply.
Micro USB interface: set temperature rise curve, user defined function key and firmware upgrade function through parameter file.
Additional functions: application layer open source design. You can change the internal parameter settings according to your own needs to meet more and more performance needs of different customers.
Safety Instructions
1. Please use ground clamp, proper power supply and other accessories to ensure safe use.
2. When SQ-001 is used for the first time, it may slightly smoke due to heating of electric heating element, which is normal Phenomenon.
3. If SQ-001 is used continuously for more than 350 ° C for 40 minutes, the handle temperature of soldering iron will reach 50°C~60°C.
4. When SQ-001 temperature rises, do not contact the iron head to avoid scalding.
5. When SQ-001 is powered on, the iron head cannot be replaced.
Soldering Iron Tool Bags Detail :
Product size (L * W * H): 175mm * 70mm * 50mm/6.89in*2.76in*1.97in
weight: about 77g