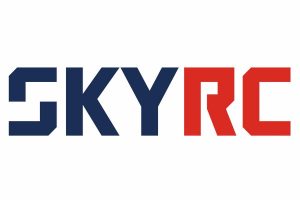 SkyRC Q200 Charger – AC/DC 4-Channel LiPo Charger with LCD Screen
The SkyRC Q200 is a Quad-channel charger with 4 independent circuits, which can charge four different kinds of batteries simultaneously. The charger adopts a 480×320 color LCD display, and paired channels (A&C or B&D) support power distribution in AC mode. Moreover, because of its USB Port and Bluetooh users could either connect it to PC or mobile device to further expand their using experience. Firmware upgrade is available via PC software interface.
Description:
Brand Name: SkyRC
Item Name: Balance Charger Discharger
Item No.: Q200
Input Voltage : AC100-240V / DC 11 -18V
Charge Circuit Power
DC Input :CH A/CH B: 100W CH C/CH D: 50W
AC Input : CH A+CH C=100W CH B+CH D=100W CH A/CH B: 50-100W CH C/CH D: 0-50W
Discharge Circuit Power : 4 x 10W
Charge Current Range : CH A/CH B 0.1-10A CH C/CH D 0.1-5A
Discharge Current Range : 0.1-2Ax 4
Current Drain for Balancing : Max 200mA/cell
Trickle Charging Current : 50mA-300mA & OFF
LiPo/LiFe/Lilon/LiHV Battery Cell Count : 1-6 Cells
NiMH/NiCd Battery Cell Count : 1-15 Cells
Pb Battery Voltage : 2-20V
Dimension : 197x182x71mm
Weight : 1325g
Features:
Large screen LCD
Terminal Voltage Control
Re-peak Mode for NiMH/NiCd Battery
Battery Meter
Battery Internal Resistance Meter
PC Communications: USB Port for PC Control & Firmware Upgrade
Smart Phone Control & Monitor Via Wi-Fi Module( SK-600075 Optional Part)
Four channels can charge four different kinds of batteries simultaneously
Supports intelligent charging power distribution when operating with AC input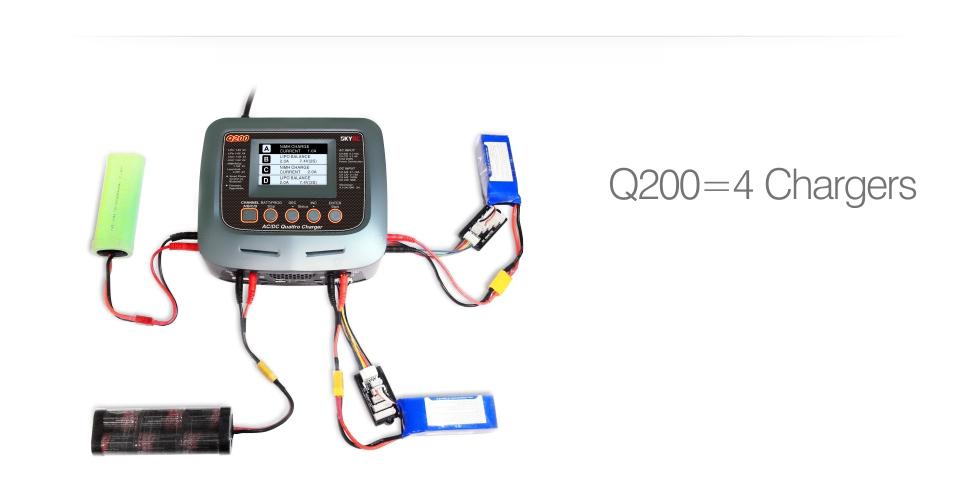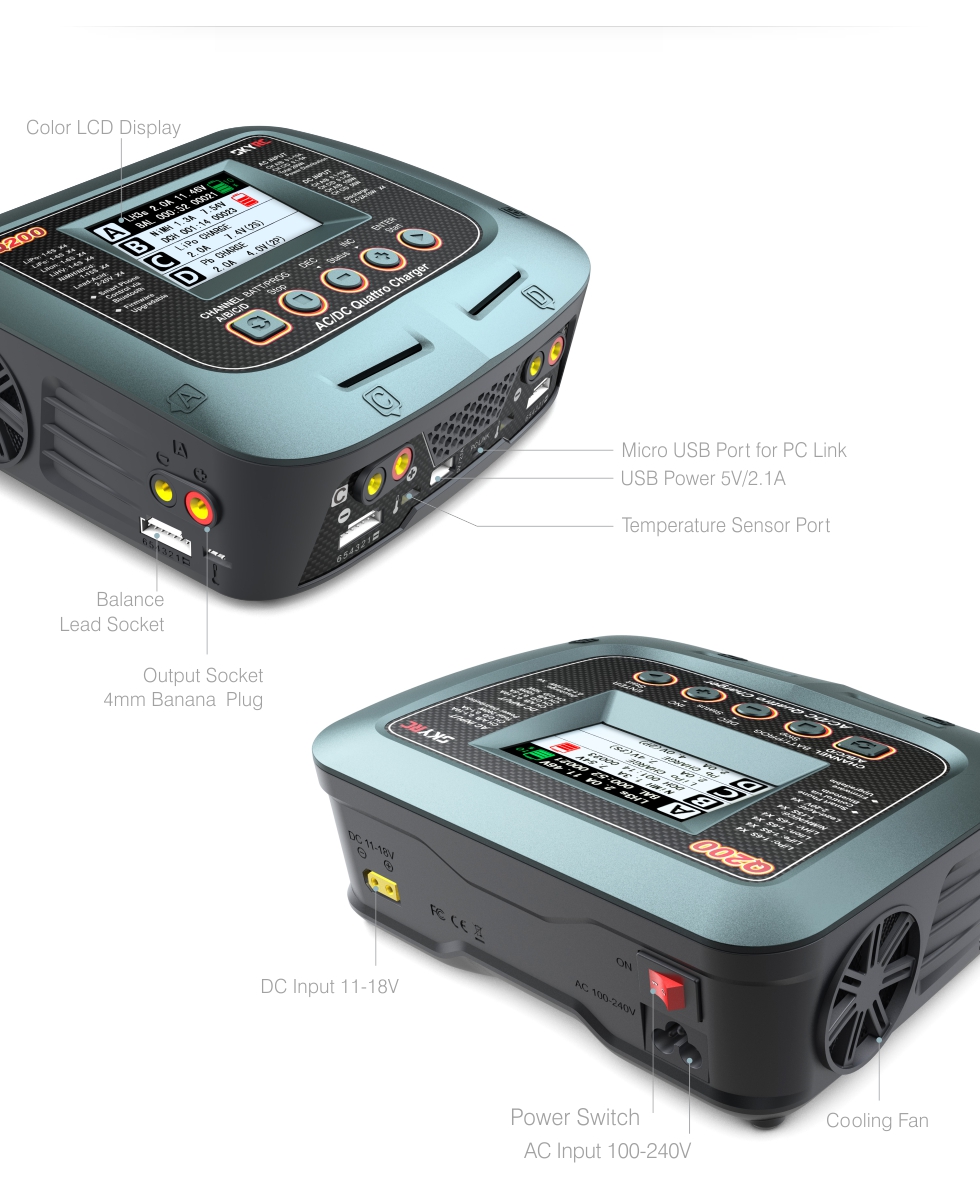 A very unique feature of Q200 is SCAN TO GO (automatically charging system). As the range of battery types and capacity becomes more and more, each battery requires its own dedicated charging process. It is easy to set up the charger incorrectly for a specific type of battery, resulting damage the battery or even cause accident.
The revolutionary SCAN TO GO provides a solution to this problem by allowing the user to assign a QR Code which contains all the relevant data for the battery for charging or discharging. The user can create a unique QR Code by using "SkyCharger" apps. Print it and paste it on the battery.
Using your smart phone and launch "SkyCharger" app. Since all the essential information is stored in the QR Code. All you need to do is press the Scan button, and the charge or discharge process will start automatically.
Package includes:
1x SkyRC Q200 Balance Charger/Discharger
Also includes couple sets of charging cables and balancing boards.
Also includes instruction manual.
Don't forget to grab a couple parallel charging boards to turn charging 4 batteries into 24!