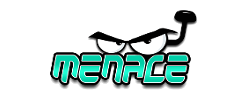 Menace RC VIPER Antenna 5.8Ghz Linear Receiving Patch – SMA
Check out all of our Menace Products!
We also have this antenna in RP-SMA!
The VIPER antenna is a small linear receiving patch specially designed to work with the linear whips found on the Tiny Whoop, ToothPick, and Micro Drones. The VIPER can extend the range further and deliver a clearer signal in the most demanding environments.
If you are using a linear whip antenna on your micro quad and using a circular antenna to receive you would be experiencing a 3db loss due to the mixed polarisation signals, for each 3db drop in a signal that is a half in power so effectively your 25mW vtx will only be seen as transmitting 12.5mW. For increased range, and clarity and to get your 3db back use the Menace VIPER antenna.
Built on the success of our proven linear Bandicoot antenna we have redeveloped a much higher sensitivity VIPER antenna in a smaller form where you are able to achieve a clearer signal which grants enriched penetration for indoor environments along with extended range in outdoor environments.
Specification:
Frequency: 5800 Mhz
Bandwidth 300 Mhz
Gain: 8.0 dB
Beam width: 90° (H + W)
Linear Polarised
SMA Connector (Fits Fatshark Goggles)
Dimensions: 42mm x 38mm x 19mm
Weight: 12grams