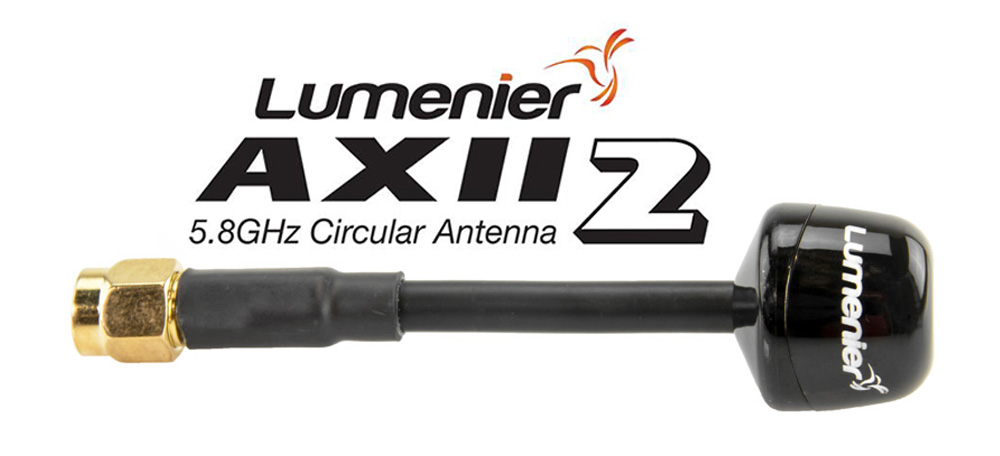 Lumenier AXII 2 Straight MMCX 5.8GHz Antenna (RHCP)
See all of our Lumenier Products! Also, see all of our 5.8GHz Antennas!
The Lumenier AXII is known to be the most versatile and highest-performing antenna line for FPV today. Lumenier has been able to improve on the best and make it even better!
Improved Features
Significantly Improved Range with a Higher Gain (2.2dBic Gain)
Wider Bandwidth (5.3-6.2GHz)
Cleaner Signal And Better Rejection to Interference
More Durable – Improved Injection Molded Housing
Virtually Perfect Axial Ratio
While almost every aspect of the AXII 2 was improved upon, the size and weight managed to stay the same. The AXII 2 is still one of the smallest and lightest circular polarized antennas on the market, perfect for both lightweight racing builds or freestyle quads.
The AXII 2 comes in many connector types such as SMA, MMCX, U.FL, Stubby SMA, and Long SMA. Precision engineering has given this antenna a virtually perfect 1.0 Axial ratio resulting in a true circularity. On top of that, the AXII 2 has an amazing max gain of 2.2dBic, a true upgrade over the original AXII.
Super Tough
Antennas take a lot of abuse, especially when put onto a quad. The AXII 2's robust antenna housing is made out of injected molded polycarbonate, significantly improving durability compared to the original AXII housing. The flexible 45mm long RG178 cable allows for complete freedom in placement.
Note: When installing, secure the antenna via the SMA connector, do not twist the cap.
Specifications
Gain: 2.2dbic
Axial ratio: 1.0 (near perfect)
Bandwidth: 5.3GHz-6.2GHz
Radiation Efficiency: 98%
SWR: <=1.5:1
Weight: 3g
Size: 78mm x 17.5mm
Cable: Flexible RG178
Connector: Straight MMCX
Works great as both a transmitting or receiving antenna
Compatible with other styles of 5.8GHz RHCP antennas
Polarization
Right Hand Circular (RHCP)
Includes
1x Lumenier AXII 2 Straight MMCX 5.8GHz Antenna (RHCP)