Torvol Quad PITSTOP Backpack
The backpack has comfortable back padding and hip straps for convenient travel. At the race location, this backpack transforms into a convenient PITSTOP area; a portable workspace to adjust and modify your quads quick and effortless. Torvol's CLEANSEAT prevents you from dirty knees while doing so.

The Trovol Lipo Safe Pouch fits inside perfectly and holds your lipos organized and safe.
This Quad Pitstop Backpack makes sure you can enjoy more time racing and less time preparing for it.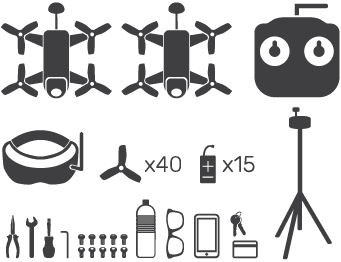 KEY FEATURES
• Torvol PITSTOP
• Torvol MAGNETCASE
• Torvol CLEANSEAT
• Quick release straps on each side
• Modular divider set
ADDITIONAL FEATURES
• Top pocket for small personal items
• Stretchy mesh pockets on the sides
• Comfortable hip and sternum straps
• Comfortable back padding
• Protective soft cotton lining
• Rain cover included
• Durable buckles
• Strong zippers and zipper pullers
Specifications
Weight 2.0 kg
Dimensions (WxDxH) 31 x 23 x 47 cm
Internal dimensions (WxDxH) 24 x 19 x 45 cm
Capacity 25 L
Color Black/Torvol Racing Green