Spedix Rex 80mm Micro Brushless FPV Drone PNP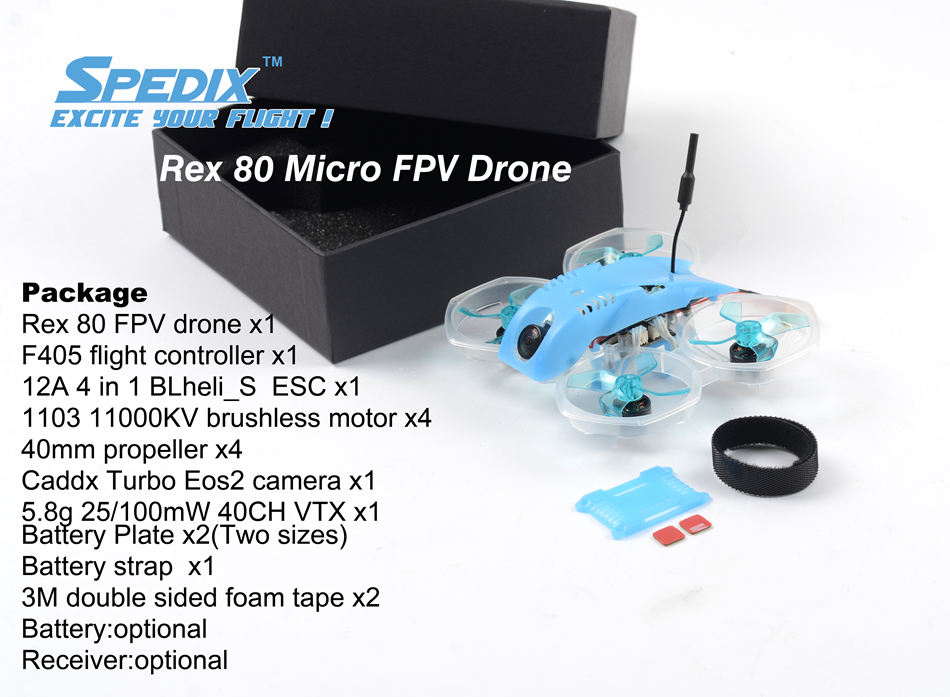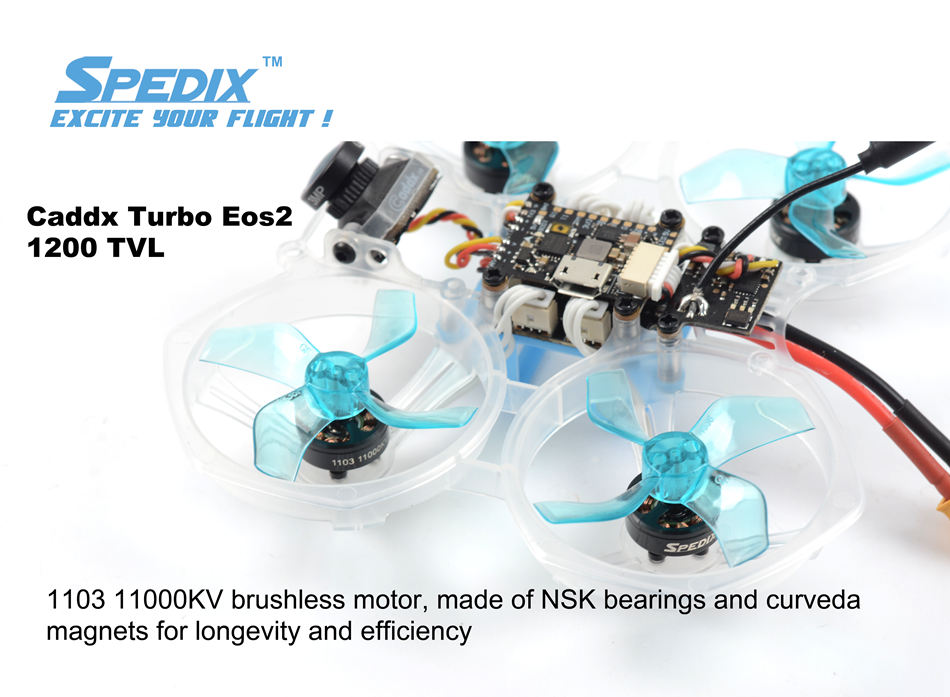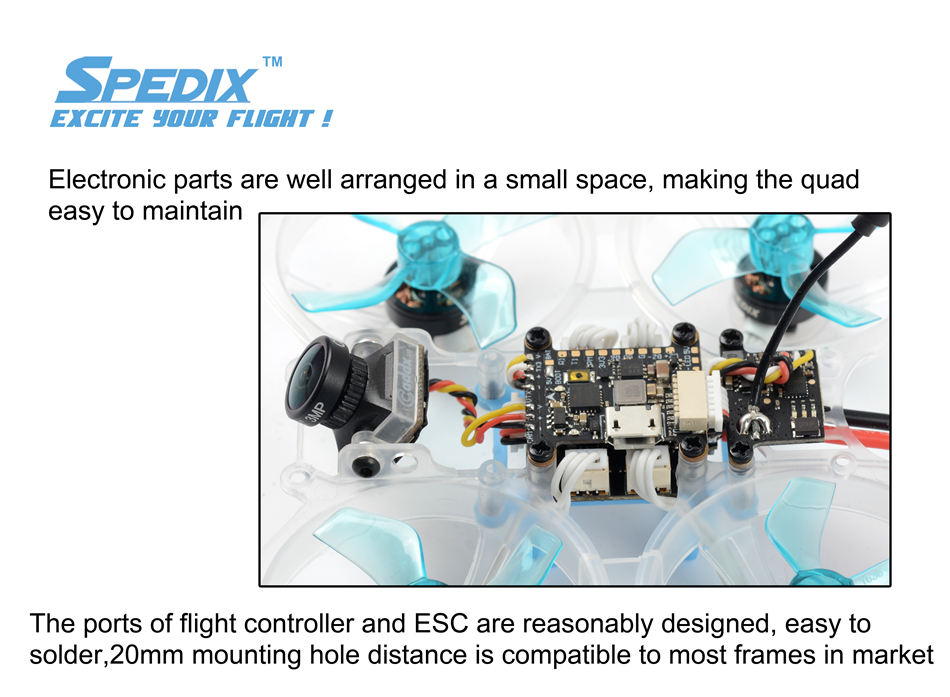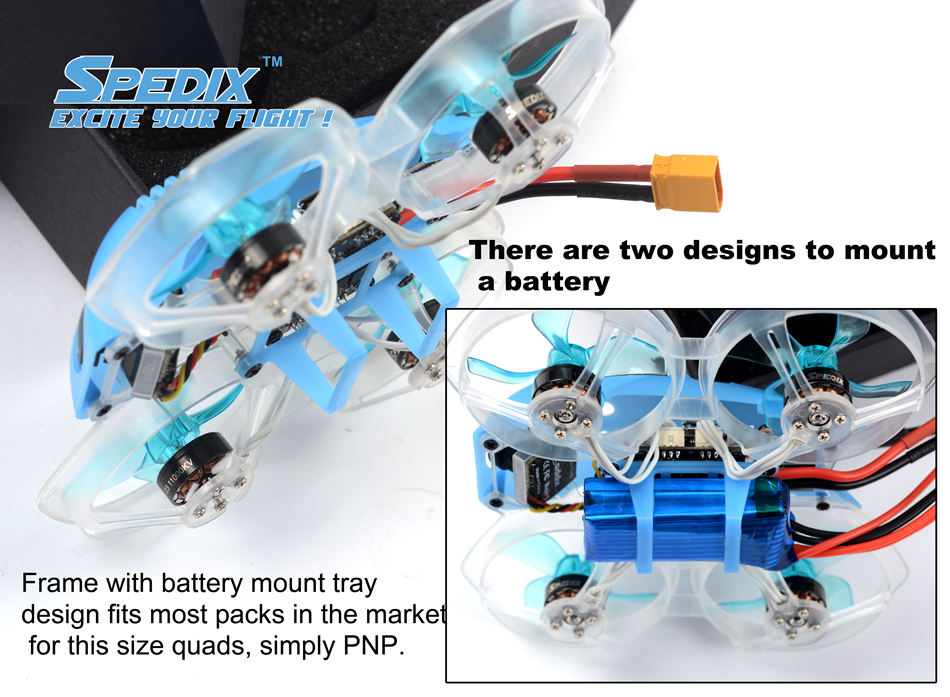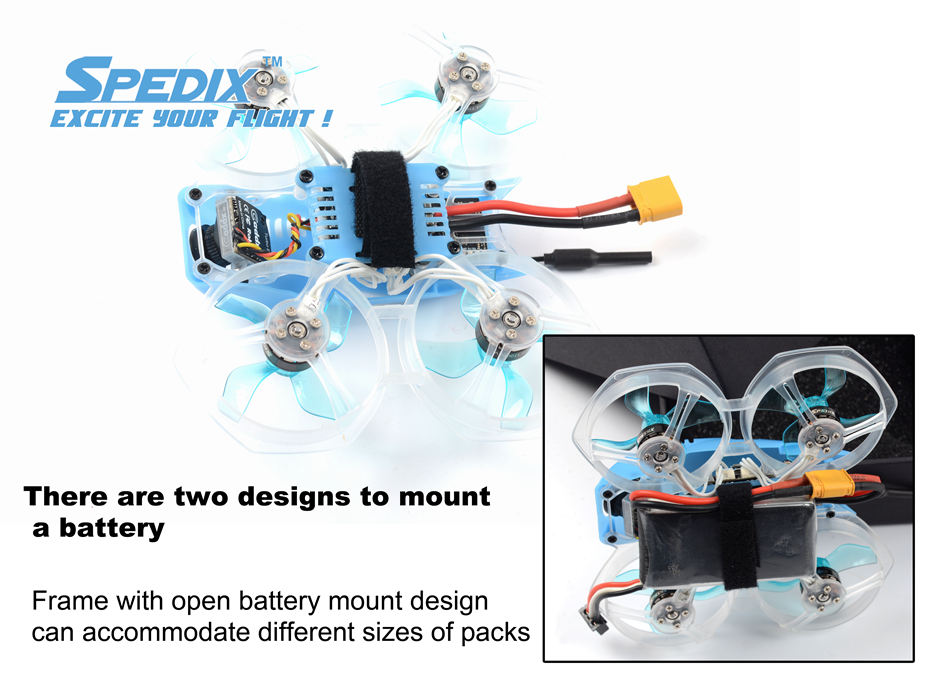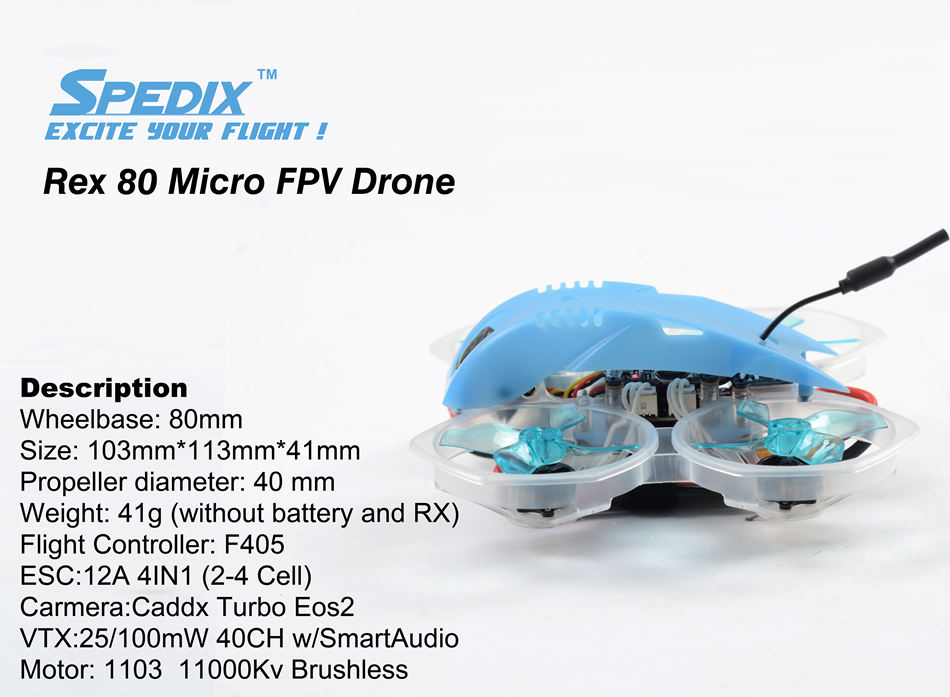 Description
Wheelbase: 80mm
Size: 103mm*113mm*41mm
Propeller diameter: 40 mm
Weight: 41g (without battery and RX)
Flight Controller: F405
ESC: 12A 4IN1 (2-4 Cell)
Camera: Caddx Turbo Eos2
VTX: 25/100mW 40CH w/SmartAudio
Motor: 1103 11000Kv Brushless 1.5mm Shaft
Key Features
Original, well designed frame. All components are arranged in a neat way, following the usual design of tiny whoop quads.
Two different battery mounts provided. Giving you a large variety of battery mounting options.
Flight controller and ESC both have 20mm mounting hole distance.  This lets you use the electronics on this quad on other frames, or upgrade the electronics on this quad easily.
High performance F4 flight control of only 24x24mm size. Made using the latest STM32F405RGT6 chip, supporting 2-4S input, 5V/3A BEC output. All ports are very well arranged in such a small space, and use popular best practices in terms of layout.
The 12A 4-in-1 ESC supports up 2-4S LiPo input, providing abundant power for the quad.
Using Caddx Turbo EOS2 1200TVL high resolution camera, providing excellent video and user experiences.  This is arguably one of the best nano FPV cameras available.
Specification
Wheelbase: 80mm
Size: 103mm*113mm*41mm
Propeller diameter: 40 mm
Weight: 41g (without battery and RX)
Flight Controller: F405
ESC: 12A 4IN1 (2-4 Cell)
Camera: Caddx Turbo Eos2
VTX: 25/100mW 40CH w/SmartAudio
Motor: 1103 11000Kv Brushless 1.5mm Shaft
Kit Contents
1x Rex 80 FPV Quad
2x Battery Plate (one of each style)
1x Battery Strap
2x double sided foam tape
You will still need to attach your own receiver and battery.
If you use a Frsky Transmitter check out the XM or XM+ receiver
Recommend props are the Gemfan 1636-4
Wiring Diagrams: