BetaFPV Meteor65 Pro Brushless Whoop Quadcopter (1S)
Check out all of our BetaFPV Products!
METEOR65 PRO IS DESIGNED FOR EXPRESSLRS PILOTS!
Meteor65 Pro comes with 35mm propeller for power improvement and a flexible flying experience. Beyond that, it has almost the same components as Meteor65, like an F4 1S 5A FC board with built-in ExpressLRS receiver, up to 350mW M03 VTX, 19500KV 0802SE motors, etc.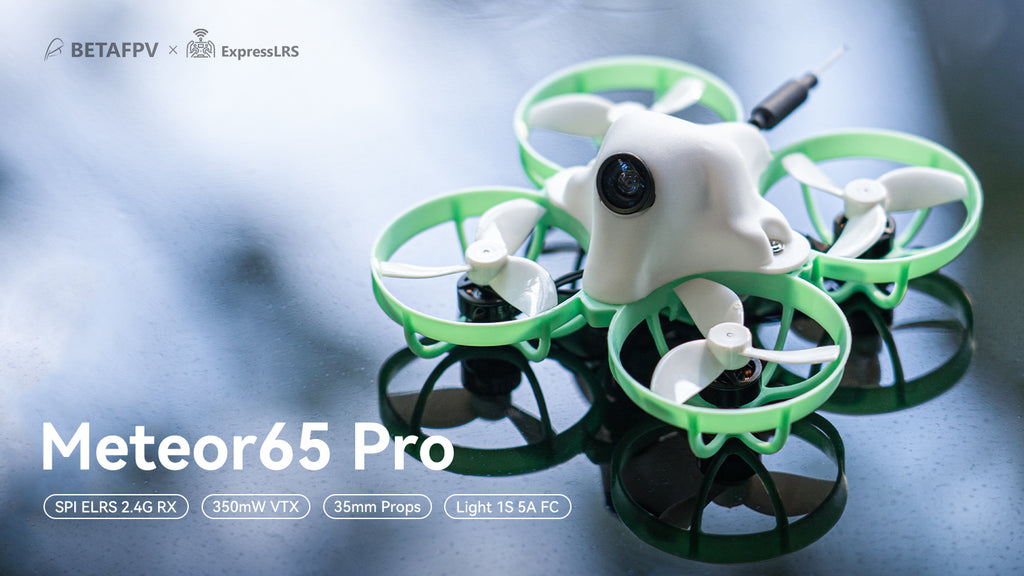 In order to meet the FPV pilot's requirement for ELRS whoop drones, the ELRS 2.4G version Meteor65 Pro is here.
ExpressLRS is based on Semtech Lora SX127x or SX1280 hardware for RX and TX respectively. it aims to achieve the best possible link performance in both speeds, latency, and range. At 900 MHz a maximum of 200 Hz packet rate is supported. At 2.4 GHz a blistering 500Hz is currently supported with a custom OpenTX build. This makes ExpressLRS one of the fastest RC links available while still offering long-range performance.
More and more vendors start to support the ExpressLRS radio protocol in different parts, like radio transmitters with ELRS in stock, drones with built-in ELRS receivers, and ELRS TX modules for JR bay, or Nano bay. BETAFPV team take part in this project and provide a series of ExpressLRS components.
How to Bind with Betaflight FC with SPI ExpressLRS Receiver.
Specification
Item: Meteor65 Pro 1S Brushless Whoop
Weight: 22.0g (without battery)
FC&ESC: F4 1S 5A FC (ELRS 2.4G)
Frame: Meteor65 Pro 65mm 1S Brushless Frame
Motors: 0802SE 19500KV Motor
Props: 35mm 3-blade props (1.0mm Shaft)
Camera: C02 Micro Camera
VTX: M03 25-350mW VTX
Canopy: Canopy for Micro Camera
Battery: BT2.0 300mah 1S Battery
Flight time: 4 minutes
Meteor65 Pro Frame & 35mm Propeller
The Meteor65 Pro frame has the same perfect performance as the popular Meteor65 frame. The lightest lower profile 65mm frame to fit 35mm propellers. The battery slot is closer to the center of gravity for a smoother flying experience, and you will land on the motor screws instead of the battery.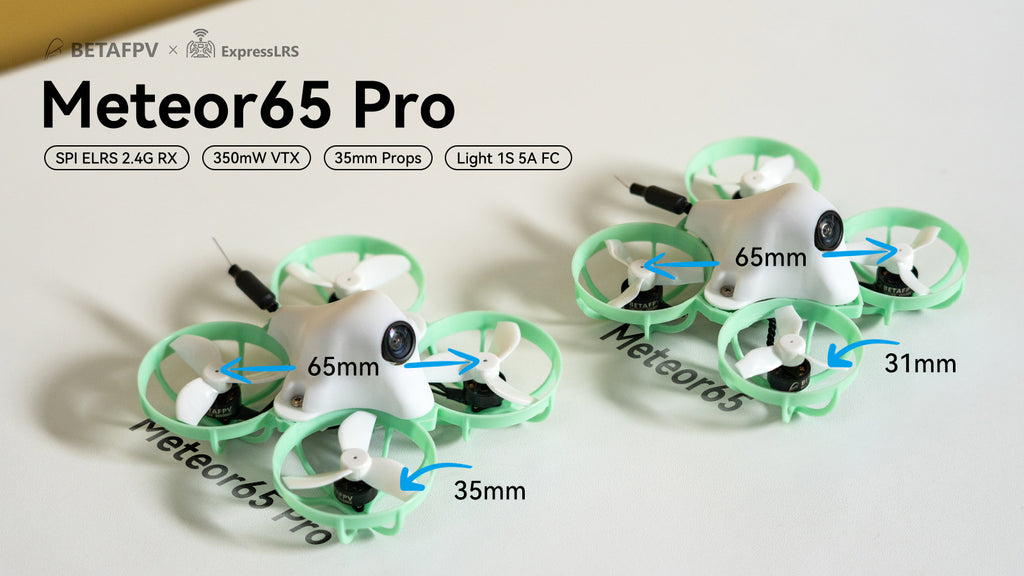 BT2.0 Connector
BETAFPV exclusive designed BT2.0 connector has broken through the bottle-neck of the PH2.0 connector. BT2.0 connector has decreased internal resistance of the connector effectively allowing more current to be transferred, which means it supports 9A continuous current (15A burst). This means stronger power and longer flight time on 1S brushless drones while PH2.0 just supports 4.5A. You can enjoy more flight time without being disturbed by low voltage warnings due to reducing voltage sag.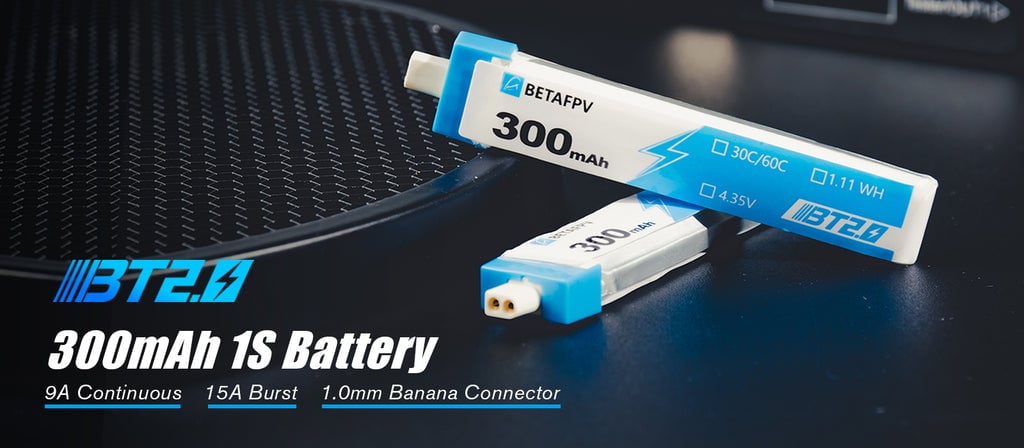 See the graph below of comparing the BT2.0 connector and PH2.0 connector (solid pin version) in the BETAFPV 1S 300mAh battery. The discharge current is 9A in this test. The BT2.0 has double the time (about 2 minutes) and a 0.2v improvement in voltage sag.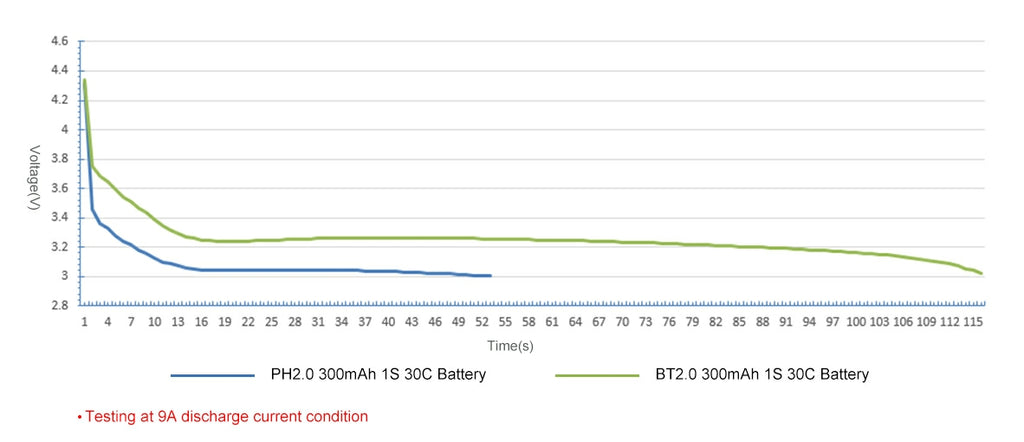 Much more choices of BT2.0 series accessories.  
We know some pilots might have a question about how to deal with the old PH2.0 1S battery. So we provide some accessories like BT2.0 connectors for those people who want to convert the PH2.0 connector to the BT2.0 connector.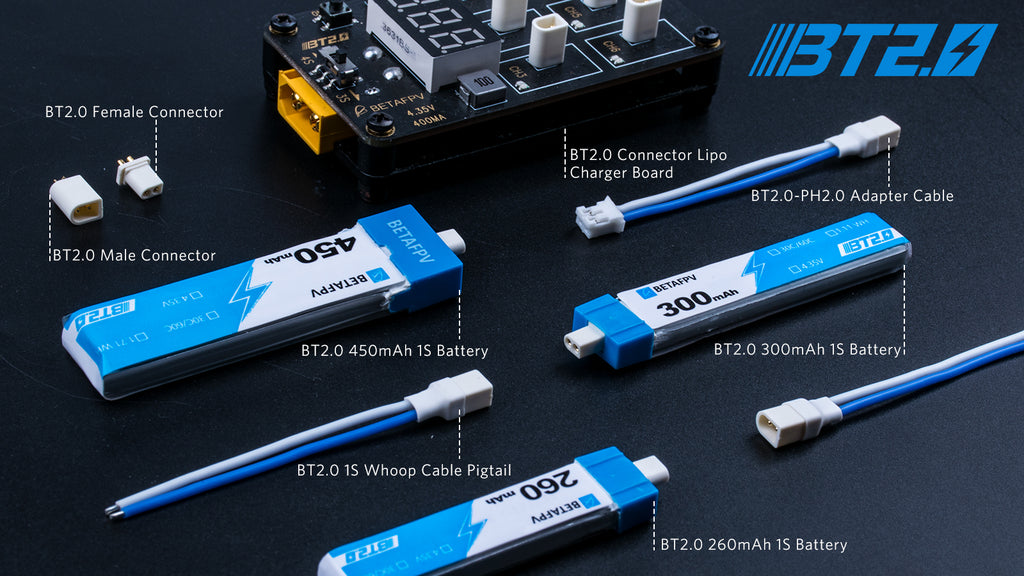 Motors
0802SE 19500KV Motor is a lightweight 1S motor, compared with the 0802 series brushless motors, it is not only significantly reduced the weight which is only 1.83g/pc but also ensures the awesome performance of power and thrust. Lead wire is soldered to the PCB, which allows you to repair it easier once it is disconnected.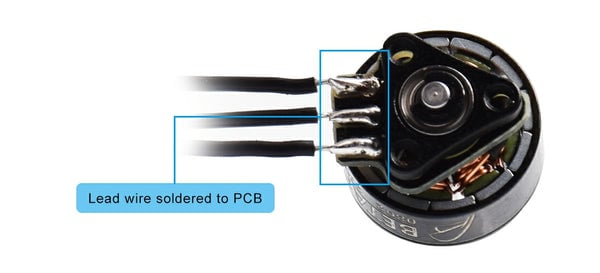 And the Racing version of Meteor65 is using the 0802 22000KV motors, which uses a ball bearing instead of brass bushings, and PCB connector. More durable and easier to repair once disconnected.

FAQ
1. Cli Dump of Meteor65 Pro Whoop Quadcopter (Click here to find the details).
Package
1 * Meteor65 Pro Brushless Whoop Quadcopter (1S)
2 * 300mAh 1S 30C Battery with BT2.0 connector
1 * BT2.0 Battery Charger and Voltage Tester
1 * TypeC USB cable
1 * Customized Carry Case
1 * Spare 35mm 3-blade props (1.0mm Shaft)
1 * Screwdriver