BetaFPV Beta95X V3 Whoop Quadcopter – TBS Crossfire
Check out all of our BetaFPV Products!
Please Note:
1. DO NOT pull the power connector violently, as this may cause the capacitor of the flight controller to contact the carbon fiber on the frame and cause a short circuit.
2. Due to the shortage of STM32F105 ESC Chip, we switched to AT32F415 ESC Chip for the Beta95X V3 quadcopter.
We are glad to announce that the Beta95X V3 series drone is updated with huge improvements. The new changes could effectively reduce the issue of jello generated in the insane flight and provide a better FPV image.
Change the motor to a 1404 4500KV Motor, which can effectively reduce the vibration of the fuselage during the flight.
Replace the D63 5-blade propellers with D63 3-Blade Props, which will have lower noise and less vibration during flight.
As the updated version of Beta95X V2, Beta95X V3 Whoop Quadcopter has a brand new pusher design and more powerful configuration, bringing pilots a smoother flying experience! What's more, with the built-in mount for the SMO 4K and a low center of gravity "pusher-style" inverted frame, Beta95X V3 Whoop Quadcopter perfectly matches for SMO 4K camera, and gives the pilots an incredibly stable and clear 4K footage video while in the FPV flight!
Meanwhile, if you have DJI FPV goggles, welcome to choose the Beta95X V3 Whoop Quadcopter (HD Digital VTX).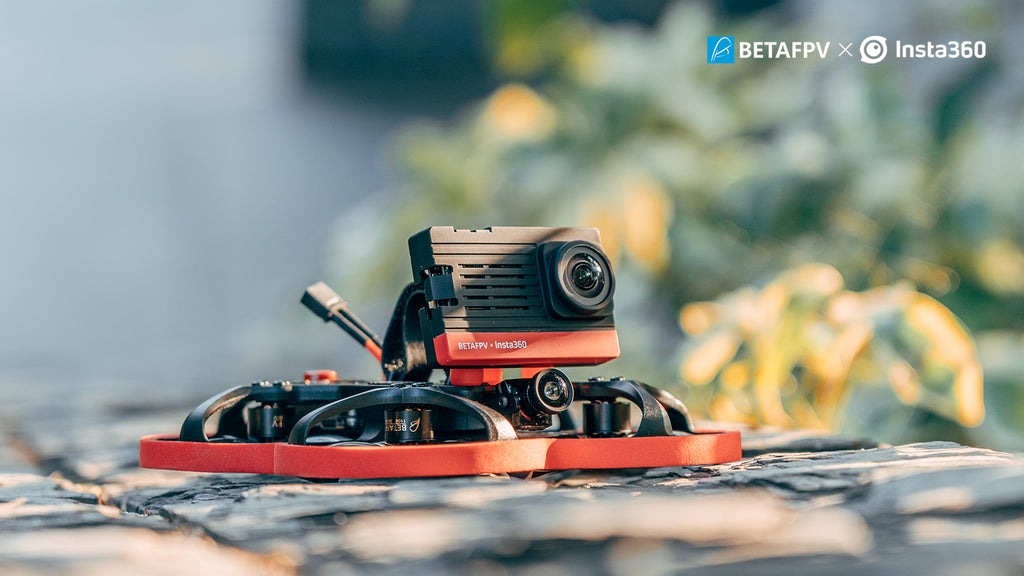 Bullet Point
Beta95X V3 is perfectly suitable for the SMO 4K action camera. It's very convenient for out-of-the-box installation and power input for the camera with a built-in camera mount and a power cable. Combined with SMO 4K, pilots can get a stable & high-quality video while in FPV flight.
Adopts a brand-new innovative pusher frame design, the frame is made of PA12 material, which has high abrasion resistance and can dampen noise & vibrations, bringing the drone a more durable flight and no fear of damage. The frame also comes with an EVA foam cushioning design to give you more safety flying.
Equipped with Toothpick F405 AIO 20A FC V4, 1404 4500KV motor, and D63 3-blade props, this highly efficient power system keeps Beta95X V3 more powerful and less noise in flight. For battery, we highly recommend you use the BETAFPV 450mAh 4S battery to get the best flying experience.
Centering the drone's gravity by reversed-motor design and top battery place makes the drone more maneuverable to achieve all FPV freestyle tricks such as diving.
Further improving the shock mitigation system to eliminate the shake of the camera, Beta95X V3 will make the camera more stable on the flight, which ensures pilots can capture all the beautiful moments of flight with the stabilized and clear video.
Specification
Item: Beta95X V3 Whoop Quadcopter
Weight: 99.1g (without battery)
Wheelbase: 95mm
FC: Toothpick F405 AIO 20A FC V4
Frame: Beta95X V3 Frame Kit
Motors: 1404 4500KV Brushless motor
Props: Gemfan D63 3-Blades Props
Receiver Option: Frsky FCC/Frsky LBT/TBS/PNP
Camera: Caddx Ant Customized Camera (4:3)
FPV Camera Degree: 25°- 45°
VTX: M02 25-350mW 5.8G VTX
Camera Mount: SMO 4K camera Mount
HD Camera Mount Degree: 5°- 45°
Antenna: Air 5.8GHz Antenna (RHCP)
Battery: 450mAh 4S battery(Not including)
Charge Connector: XT30
Flight time: About 4.5 min flight with 450mAh 4S battery