BetaFPV Beta95X V3 Whoop Quadcopter – (HD Digital VTX) – TBS Crossfire
Beta95X is the smallest and lightest whoop drone with HD digital VTX in the world. The wheelbase is only 100mm and the weight is 110g without a battery. Even small and light enough, but the performance doesn't decrease. With 2.5″ 3-blade propellers, 1106 motors, and F4 AIO 20A Flight controller V3 version, the drone could do all the acrobatic motions smoothly, like dive and power loop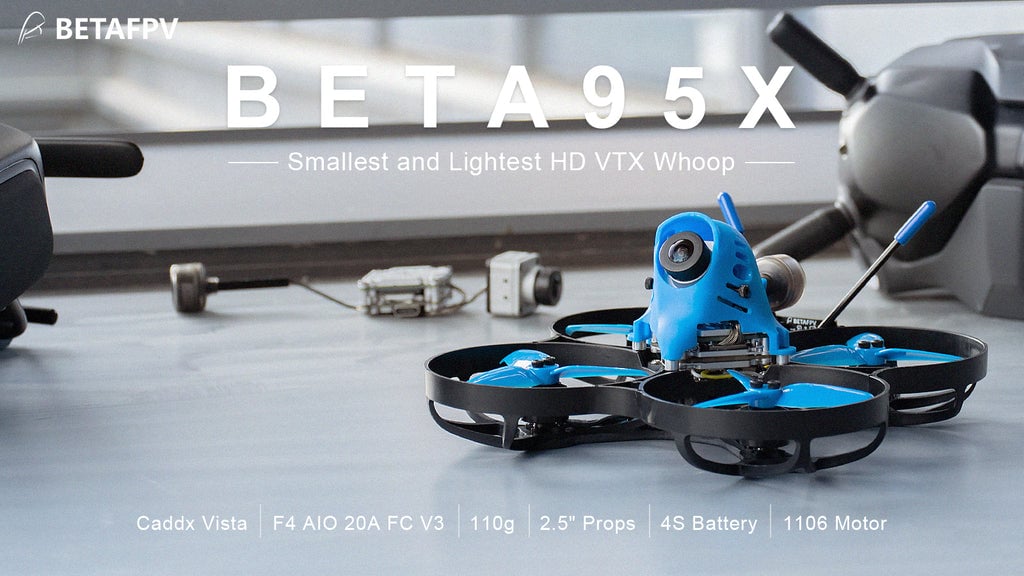 Beta95X could support the DJI FPV Goggles. Pilots can now enjoy both superb image quality and a minimum latency within 28 ms. Beta95X flying footage with 4S 450mAh battery. The video is recorded with DJI FPV goggles in 720P@60fps.
Bullet Point
Beta95X whoop platform is designed for FPV drones that can need to take heavyweight, like 30g Nebula Pro.  Which the new whoop platform, it pushes the new era of brushless whoop drones to a higher level.
Upgrade the drone with an F4 AIO 20A flight controller. Compared with the F405 Flight Controller & 16A BLHeli_32 ESC, it has an F411 chip and can handle 20A continuous current(13A/22A burst).  Also, the whole drone is lighter with this AIO FC and can give the pilots a powerful flight.
BETAFPVF405(BEFH), faster input signals with lower latency and higher update rates are reachable, give you much more power.
1106 4500KV motors will give you extreme power and speed to fly on 4S. The motor comes with cable connectors. Just plug and play.
450mAh 4S high rate battery is recommended by default. But pilot could also use their own batteries with battery strap. Optional and affordable.
Specification
Item: Beta95X Whoop Quadcopter
Weight: 110g (without battery)
Wheelbase: 100mm
F4 AIO 20A Flight controller V3 version
Frame: Beta95X Frame
Motors: 1106 4500KV with connector
Props: Gemfan 2540 3-Blades Props
Receiver Option: TBS Crossfire
Battery: 4S 450mAh Battery (Not including)
HD digital camera & VTX: Caddx Vista
Flight time: 4min – 5min with 450mAh 4S battery (smooth flight in a windless environment)