Beta75S BNF Drone (OSD) – FrSky Receiver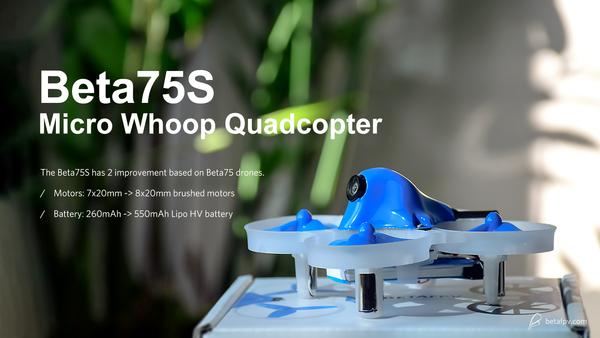 Great alternative to the popular Tiny Whoop quadcopter. BetaFPV has created some of the best whoop class drones that you can fly.
More punch on throttle with 8x20mm motors and 3-blade 40mm propellers.
The same hole pattern with Tiny Whoop flight controller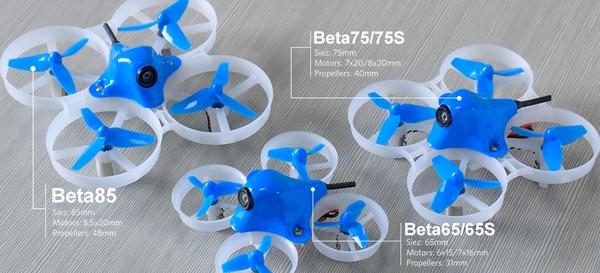 SPECIFICATION
Wheelbase: 75mm
Weight: 38g (without battery)
Flight Controller: BETAFPV Brushed FC with OSD
Firmware Version: Betaflight BETAFLIGHTF3 3.5.0 / Betaflight MATEKF411RX 3.5.0
Motor: 8x20mm coreless brushed motor, 15000KV
Receiver:SPI Frsky D16 potocol / SPI FUTABA RX / SPI Flysky RX / Native DSMX RX
Camera: Z02 Camera (25 degree)
Batterry: 550mAh Lipo HV battery with PowerWhoop connector
Flight time: 5 minutes

ASSEMBLY PARTS LIST
Frame: Beta75S frame
Motors: 8x20mm brushed motors
Props: 40mm 3-blades props / 40mm 4-blades props
FC: F4 Brushed FC / F4 Brushed No RX FC /  F3 Flysky FC /  F4 Brushed FC (DSMX RX)
AIO camera: Z02 Camera (25 degree)
Battery: 550mAh LiHV battery
FRSKY RX VERSION
Beta75S all versions are now updated to a F4 Brushed FC with a Z02 Wire Connected Camera (25 degree)! The table below shows the FC and RX that come with the drone according to the version you choose.
Note: The SPI Frsky RX is FCC version.
Binding Procedure
Note: the red receiver LED will turn off when in successful connection.
Click the bind-button meanwhile powering on the board, either by connecting the battery or USB power. Then the receiver will enter bind mode, indicated by red receiver LED flashs quickly.
Now, on the radio, enter the bind status(or what it takes to enter bind status). This receiver only support AFHDS 2A mode and does not support AFHDS mode, please turn on this mode in your radio transmitter before use.
The red receiver LED should turn off when binding is completed and successful.
| | | | | | |
| --- | --- | --- | --- | --- | --- |
| | Frsky Version | DSMX Version | Flysky Version | Futaba Version | No RX Version |
| FC | F4 Brushed FC | F4 Brushed FC | F3 Flysky FC | F4 Brushed FC | F4 No RX FC |
| RX | SPI Frsky RX | Native DSMX RX | SPI Flysky RX | SPI FUTABA RX | None |
The Beta75S has 2 improvement based on Beta75 drones.
Motors: 7x20mm -> 8x20mm brushed motors
Battery: 260mAh -> 550mAh Lipo HV battery
The Beta75S was crested based on the designs of the BETAFPV Team, Harley Finberg and Myles Myers.