1S LiPo Battery Voltage Tester for Whoops
A perfect solution for when you're at the field and you're not sure if your battery is charged! This device also doubles as a cell voltage checker thanks to the on-board LCD display. This LiPo Battery Voltage Checker will quickly tell you the total voltage.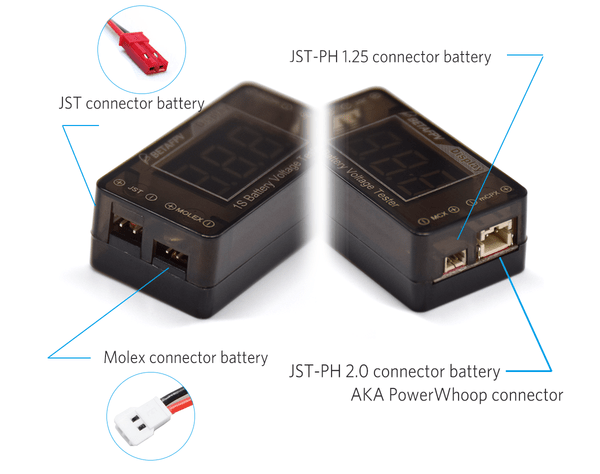 SPECIFICATIONS
Model: LiPo Battery Voltage Checker
Plugs: Micro JST 1.25, JST-PH 2.0, JST and Molex connctor
Voltage: Works with regular and HV battery packs
Voltage cut off: DC 2-5.5V
Voltage range: DC 2-5.5V(1S)
LCD: Red
Weight: 4.5g
Dimensions: 37*16*11mm
Working tem: -20~75℃
Storage tem: -25~85℃
Note: DO NOT plug more than one battery into the checker at the same time.
PACKAGE
1 * 1S Battery Voltage Tester