EMAX Tinyhawk II Race 2 inch FPV Racing Drone – BNF
Check Out The Perfect Batteries To Compliment this Super Sweet Micro – Bosh Speed Demon V2 500mAh 95c LiPo
Save Money And Get The 3-Pack – Bosh Speed Demon V2 500mAh 95c LiPo x3
Save Even MORE Money And Get The 5-Pack – Bosh Speed Demon V2 500mAh 95c LiPo x5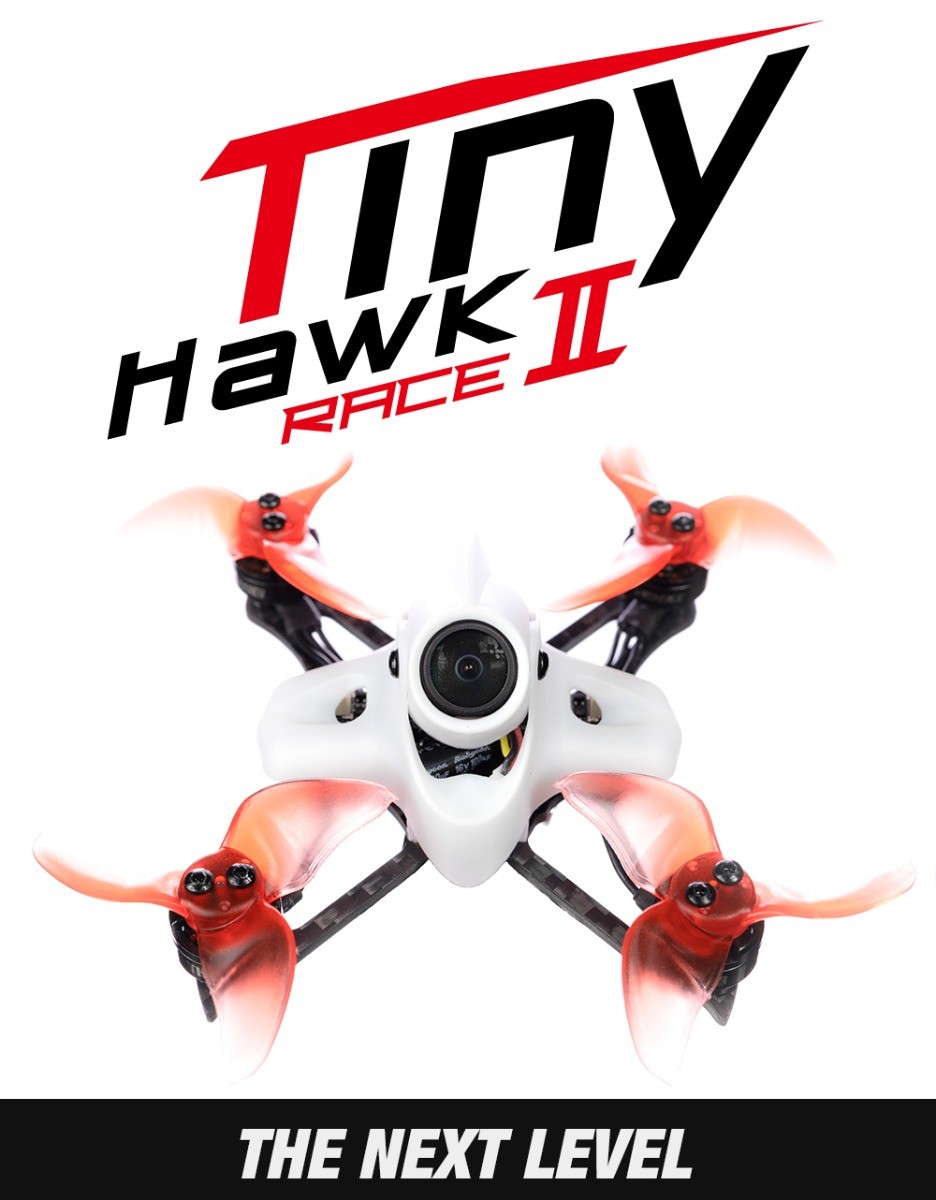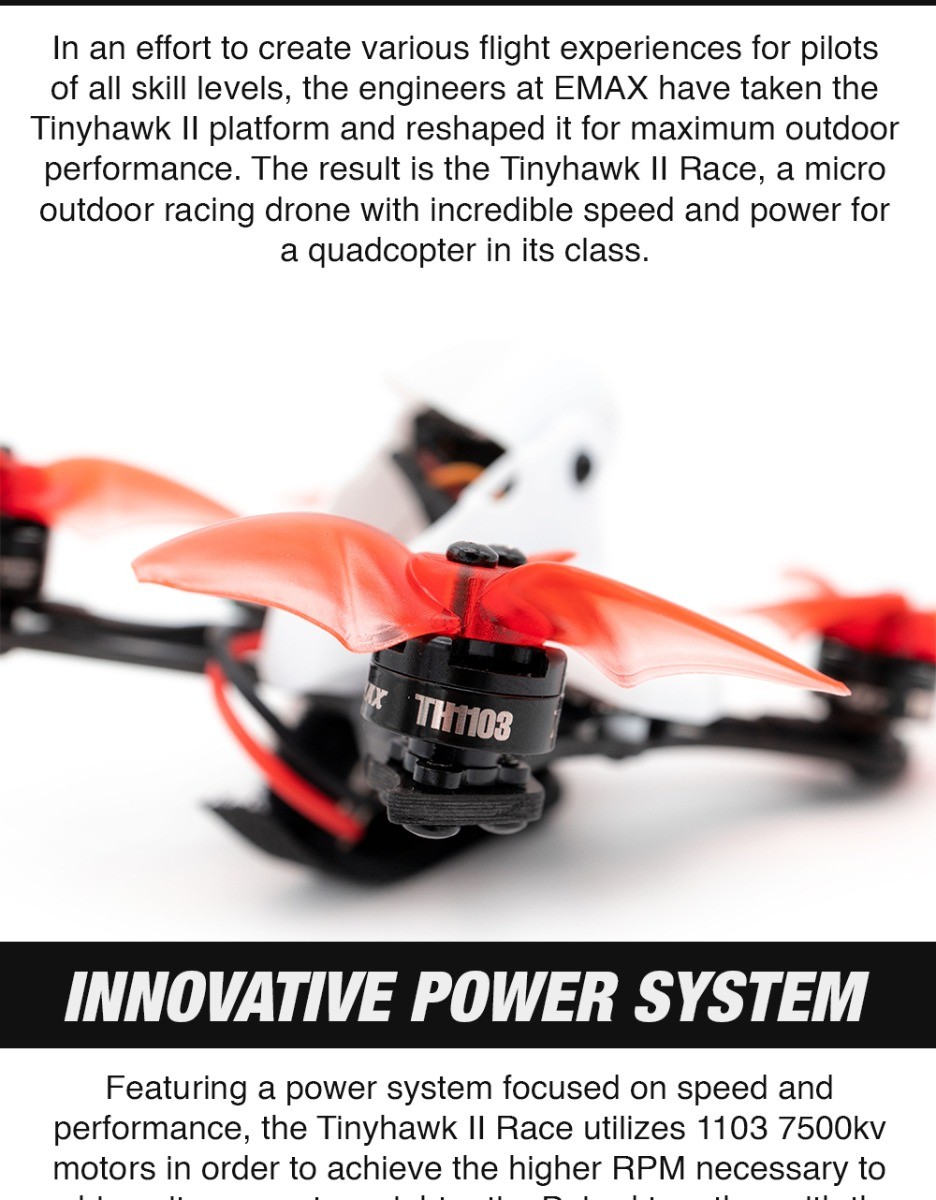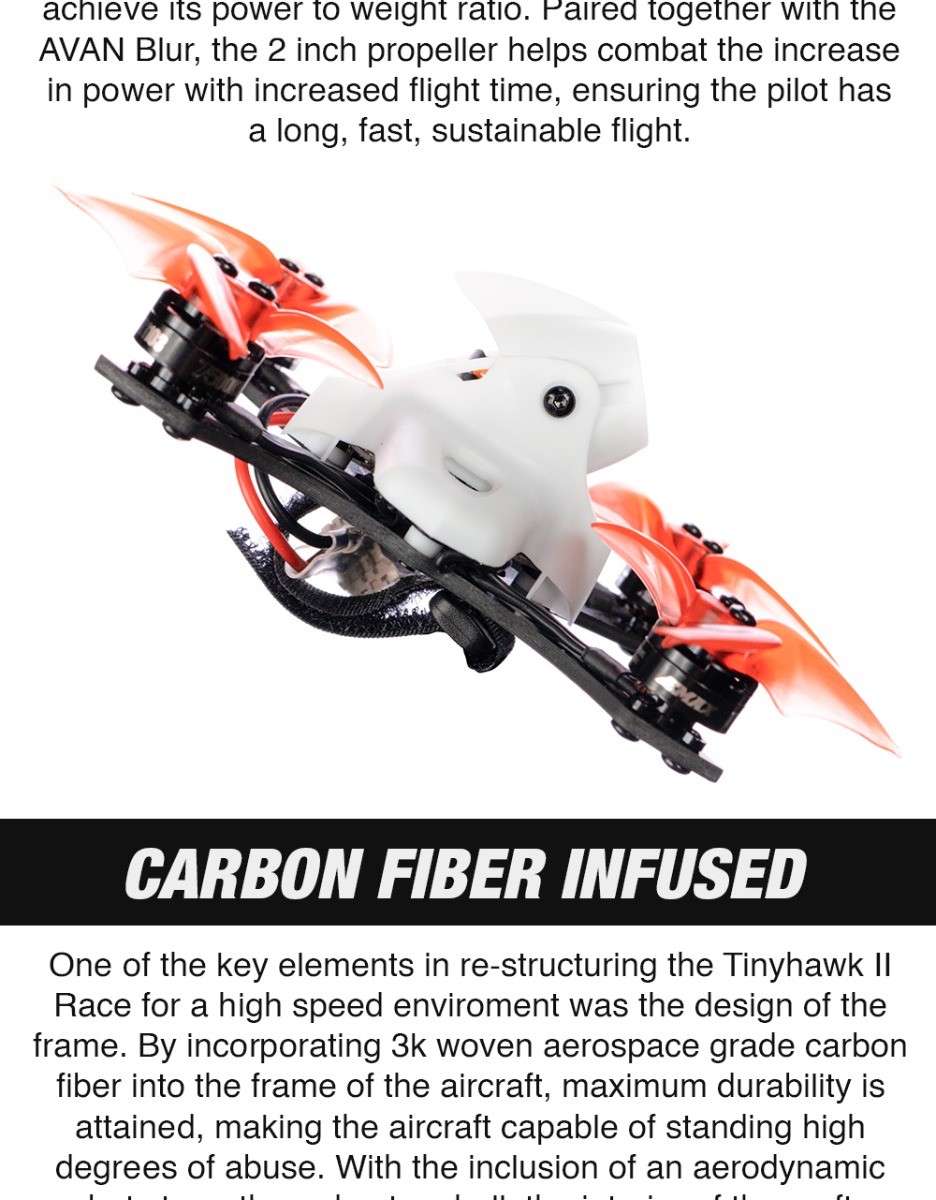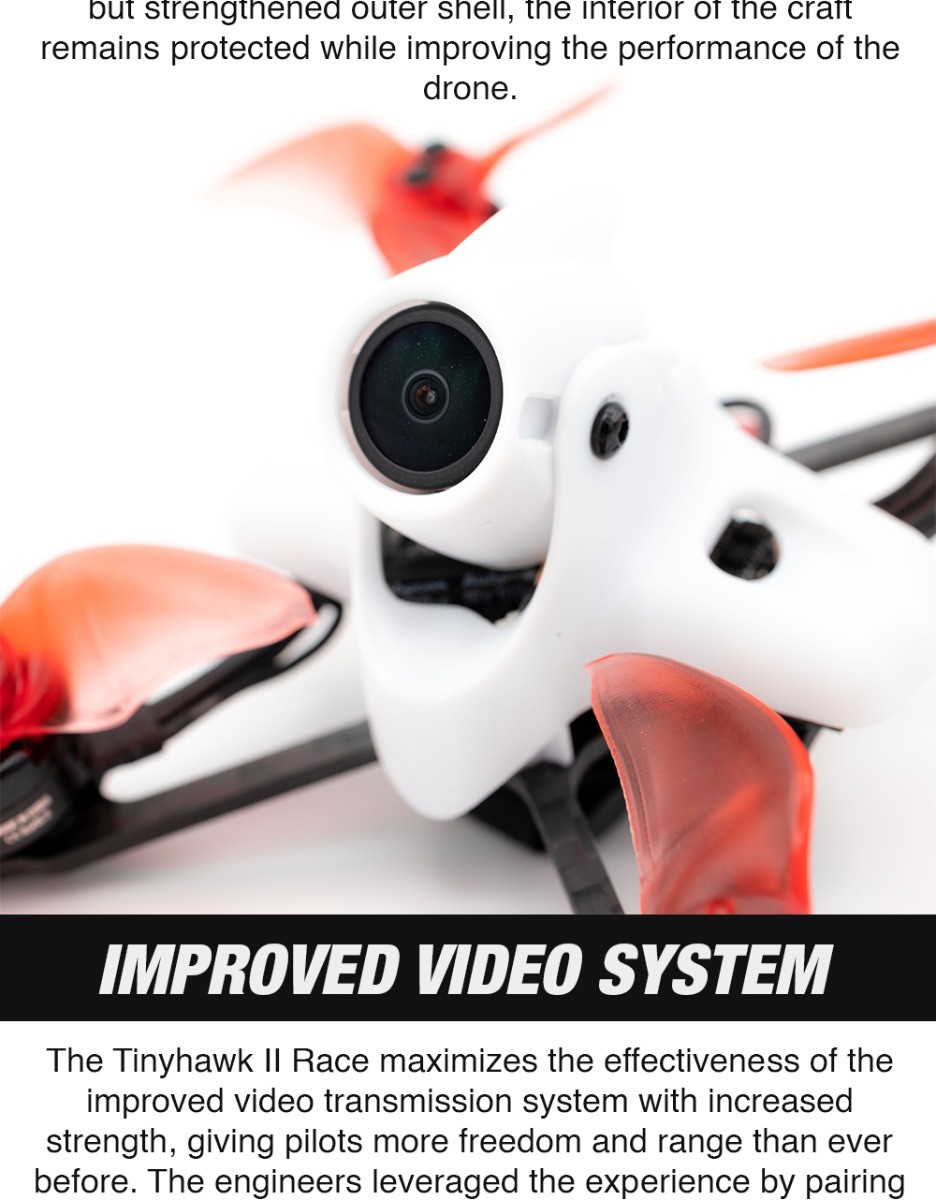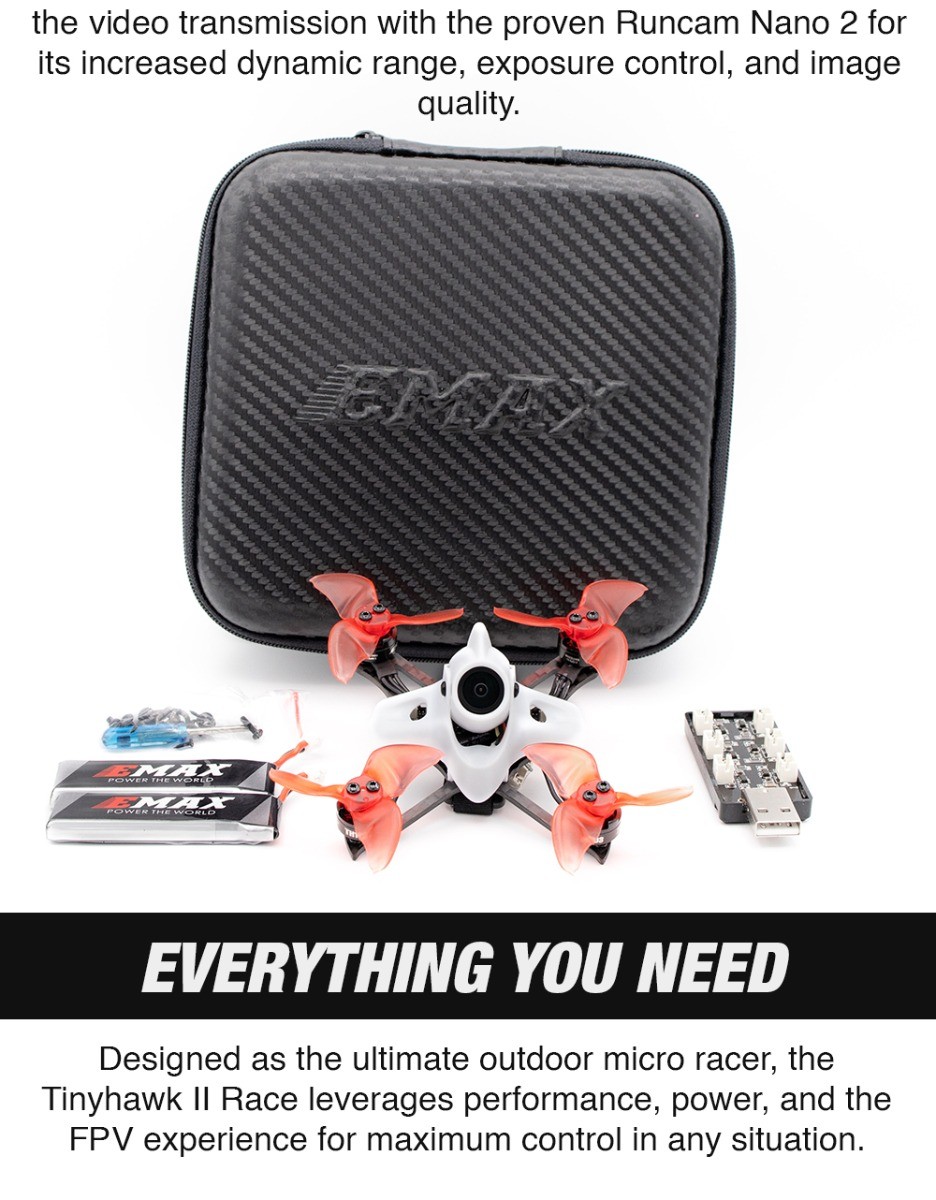 Features
Innovative Power System: 1103 7500Kv motors provide higher RPM to achieve TH2 Race's excellent power to weight ratio.
Carbon Fiber Infused: 3k woven aerospace grade carbon for maximum durability.
 Improved Video System: The proven RunCam Nano 2 provides increased dynamic range, exposure control, and image quality while the VTX output is adjustable up to 200mW.
Everything You Need. Designed as the ultimate outdoor micro racer, the
Tinyhawk II Race leverages performance, power, and the FPV experience for maximum control in any situation.
Specifications
Frame
Wheelbase: 90mm
Dry Weight: 47.5g
All Up Weight: 73g w/ 2x 450mAh 1S battery
Frame Material: Polypropylene & Carbon Fiber
Motors

Stator Size: 1103
Kv: 7500kv
Propeller Mount: T-mount
Propeller: Avan Blur 2″

All-In-One (AIO) Flight Controller

Flight Controller: F4 (MATEKF411RX Firmware)
ESC: 4-in-1 5A BlHeli_S
Receiver: EMAX SPI Receiver (Compatible with FrSky D8 mode)
Battery Connector: JST-PH2.0 Duo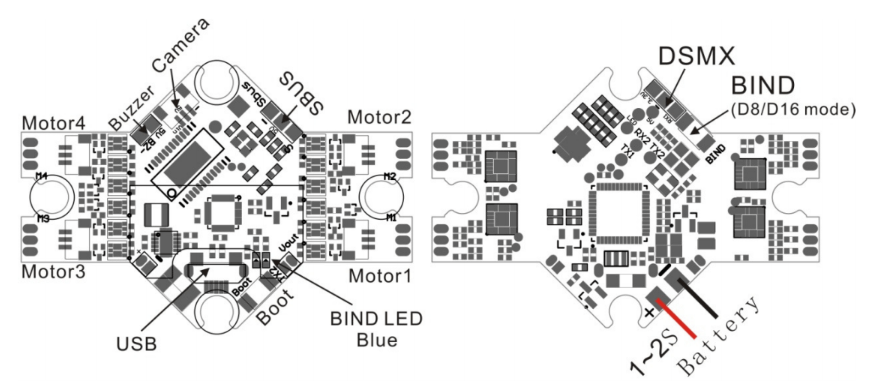 FPV System
VTX Power: 25/100/200mw Switchable (set to stay at 25mW until armed)
Channels: 37CH incl. Raceband
Camera: RunCam Nano 2 1/3″ 700TVL CMOS
Smart Audio Connected
NOTE: Under normal operating conditions, please use the Betaflight OSD function to change VTX (video transmitter) settings. Only use the VTX push button to unlock as allowed for under the FCC and HAM licensing requirements, see below. If using the VTX push button to change settings, please note that the settings will revert to the Betaflight OSD's settings once the drone is power-cycled.
Includes
1x Tinyhawk II Race BNF
2x EMAX 450mAh 1S HV Battery
1x 1S USB LiPo Charger
1x Screwdriver + Hardware Kit