BetaFPV Pavo30 Pro Frame Kit
Check out all of our BetaFPV Products!
This is the frame kit for Pavo30 Pro. It is made of carbon fiber and designed with protective rings, which make the whole drone strong enough. With a fixed XT60 port, it is more convenient to connect with the battery.
Both Pavo30 Pro and Pavo360 frame kits use the same mold-injected propeller protection guard. However, the design of the carbon fiber plate is different. So the Pavo360 drone is for 360-view video recording with SMO 360 camera and the Pavo30 Pro drone is for normal FPV video recording with SMO 4K camera.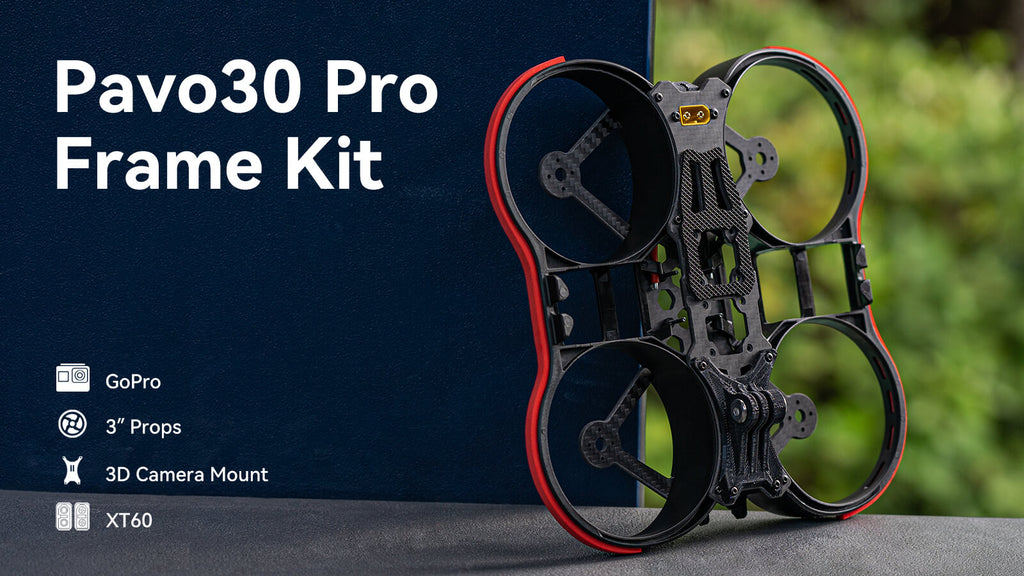 Built-in carbon fiber and reserving a storage room for the camera, the Pavo30 Pro frame has a more concise appearance and is more convenient for installation.
Made of high-quality PA12 material, the Pavo30 Pro frame kit has higher abrasion resistance, and toughness, and shows excellent impact resistance in drop & impact tests.
The fixed XT60 battery port makes it easy to connect with the battery for customers. Also, the whole drone looks simple and more functional with this design.
Pavo30 Pro supports the GoPro sports camera. The shock mitigation system with cushion makes cameras more stable on the flight, which ensures pilots can capture all the beautiful moments of flight with stabilized and clear video.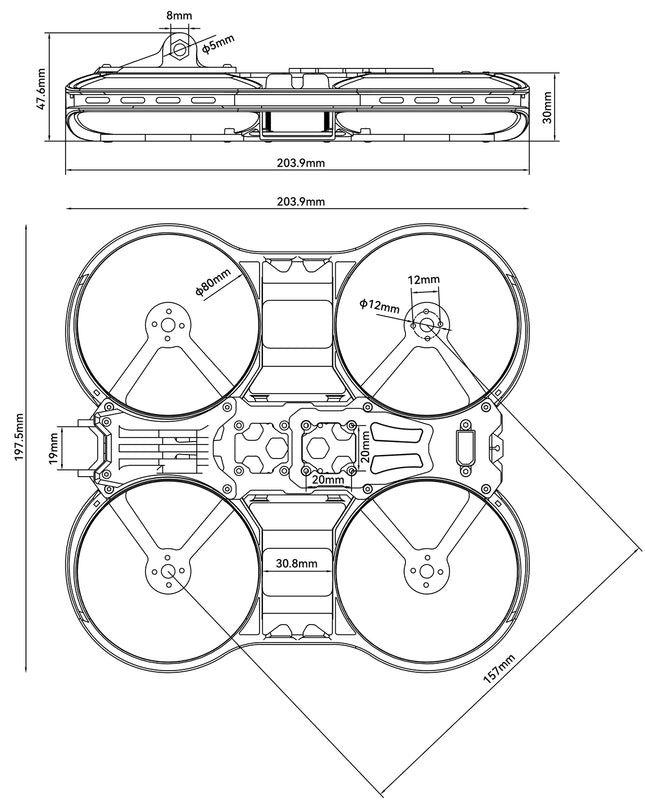 Note: With the Pavo30 Pro drone, recommend to install the battery on the top of the carbon fiber plate for perfect balance. 
Specification
Item: Pavo30 Pro Frame Kit
Wheelbase: 157mm
Color: Black
Material: PA12
Weight: 146g
Lens: 19mm
Recommend Props: 3-inch
Recommend Motor: 1506-3000KV motor / 2004-1700KV 3000KV motor/ 2204-2400KV motor
Recommend FC: F722 AIO 35A brushless flight controller
Recommend Camera: SMO 4K, GoPro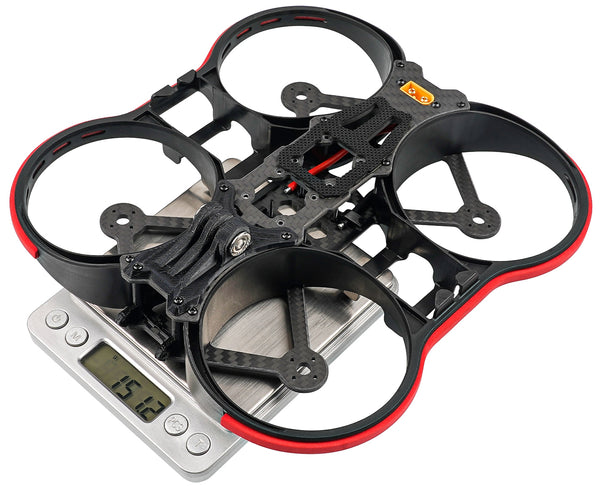 Package
1 * Pavo30 Pro Frame
1 * Top Plate
1 * Bottom Plate
1 * Mounting Plate
2 * Aluminum Columns
4 * Motor Pads
4 * 3D Printing Parts
1 * Battery Strap
1 * Wire Set
1 * Pack of Screws