AstroX X5 FPV Quadcopter Freestyle Frame (Silky Version)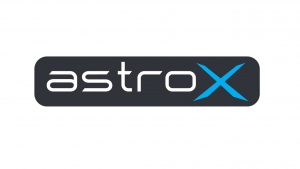 The New AstroX airframe.
Size Guide
AstroX5 = 210mm
Features
Share platform – All parts can share with AstroX210(AXF210)
Full 3K Carbon Fiber airframe
2mm bottom and top plate and 4mm removable arms
1.5mm X-reinforce plate and 8pcs of insert nut make more durable and quick swapping of arms.
Black Nickel plating 12.9 grade carbon steel screws
Easy grip and light weight hollow stand-off (Hard anodized : Astro blue color)
Easy damper landing gear
AstroX V2 PDB include (5V for FC and RX(Camera), 12V for VTX and Camera, Aux Power(same as battery volts) our and ESC Signals)
New 2 holes Cam mount(Support for 26mm cams) with 5V buzzer hole (include 5V buzzer)
Easy Lipo Access (suggested Lipo is a 1300mah – 1600mah 4s)
Support to carry HD camera (such as the GoPro 4, Mobius, or GoPro Session)
Includes
Carbon Parts
4x 4mm round cut finish Arms
1x 2mm top plate
1x 2mm Bottom Plate
2x 1.5mm Cam mount
1x 1.5mm VTX mount
1x 1.5mm RX carrier
1x 1.5mm X-reinforce plate
Hardware  
8x Astro blue Standoff
8x insert nut 8pcs
1x Set of black Nickel plating 12.9 grade carbon steel screws
1x Set of Nylon Standoff and nut.
PDB Parts 
1x AstroX V2 PDB
2x 4pin Signal pins
1x Black XT-60,
1x 14AWG power cable(red, black)
1x XT-60 mount plate.
Accessory
1x – 5V buzzer
2x – AstroX lipo strap
1x – AstroX logo sticker
1x – 2mm Lipo Pad
AstroX has given the tried and true AstroX X5 frame their signature "silky touch" – a special coating that gives the carbon fiber a unique feel!
A custom AstroX V2 PDB is included, as 5 geometry, which has proven to be very successful for freestyle frames. The front of the top plate has slots to allow for various HD camera mounts,  as well as an XT-60 connector, a buzzer and a special mount to fix the battery connector to the top plate for easy access. The design itself is based on the 3:4: camera mounts, and the FPV camera mount is easily compatible with most cameras currently on the market. A vertical plate has been added near the rear of the frame, allowing you to easily and effortlessly mount the receiver and/or video transmitter in a convenient location that works best for your build's needs.
The structural design is similar to the Alien, but it has all its own unique differences in that the replaceable arms are firmly supported between the bottom plate and a cross brace. This ensures superior rigidity and crash resistance even in tough conditions. The screws that hold the arms in place are fastened with steel press-fit nuts, making arm replacements a breeze!
The design of the Korean frame has been carefully tweaked to maintain its visual appeal without sacrificing performance. All of the high-quality carbon fiber has been chamfered, sanded and clear coated. This extensive procedure makes the AstroX "Silky" version stand out in a sea of carbon fiber frames! And not only that but designer Boohwan Jeon opted for anodized aluminum standoffs in the signature AstroX Blue color!