Jumper T16 PRO 2020 Version Type-C Charging / Folding Handle OpenTX Radio Transmitter
YES! This is the latest and the greatest! This is the latest version of the Jumper T16 Pro V2 it has all the newest features and is IN STOCK and ready to ship with FREE SHIPPING! 
This unit can be power by a 2-Cell battery or 2x 18650 batteries.
You can also charge this unit with the included USB-C Charging cable.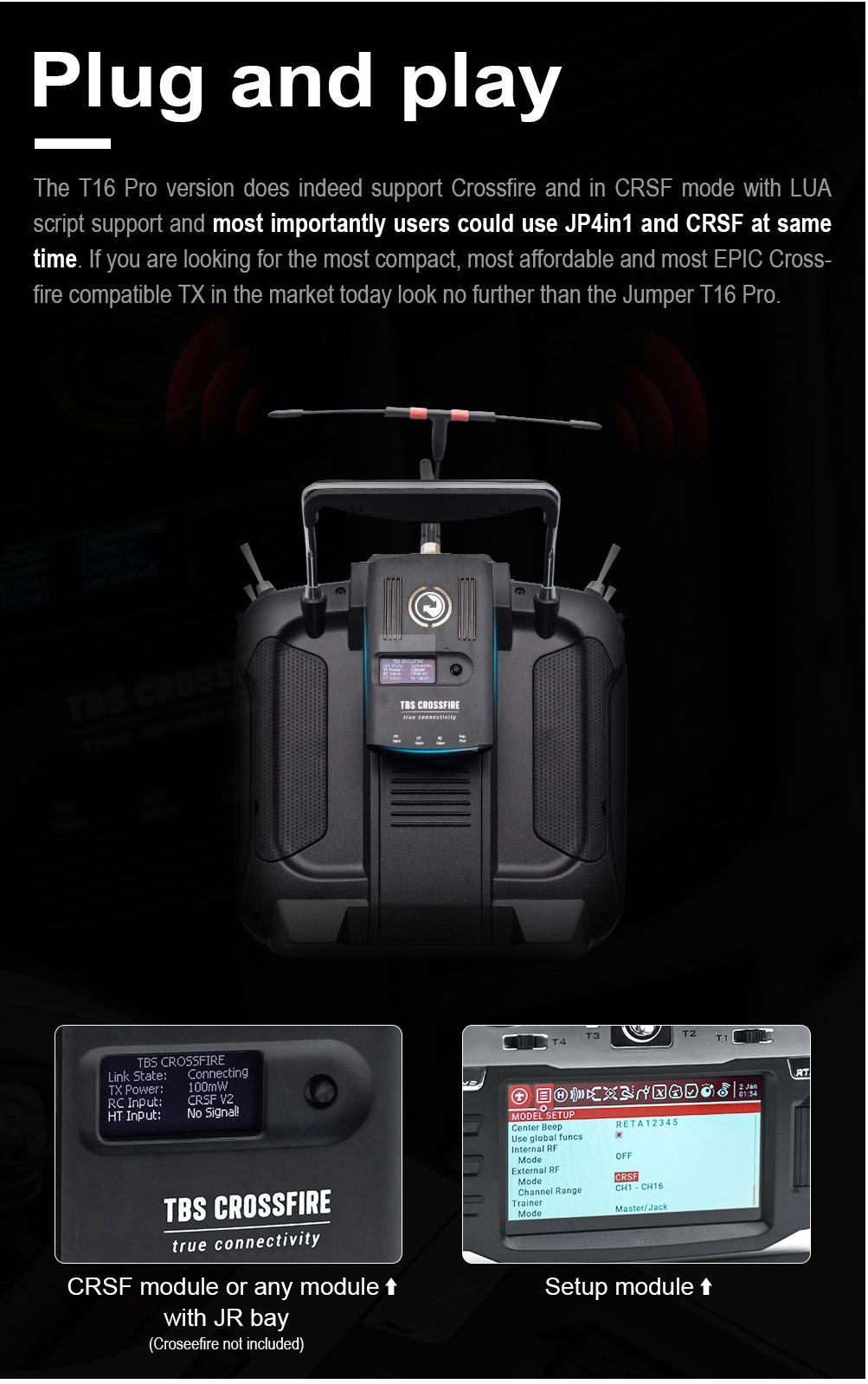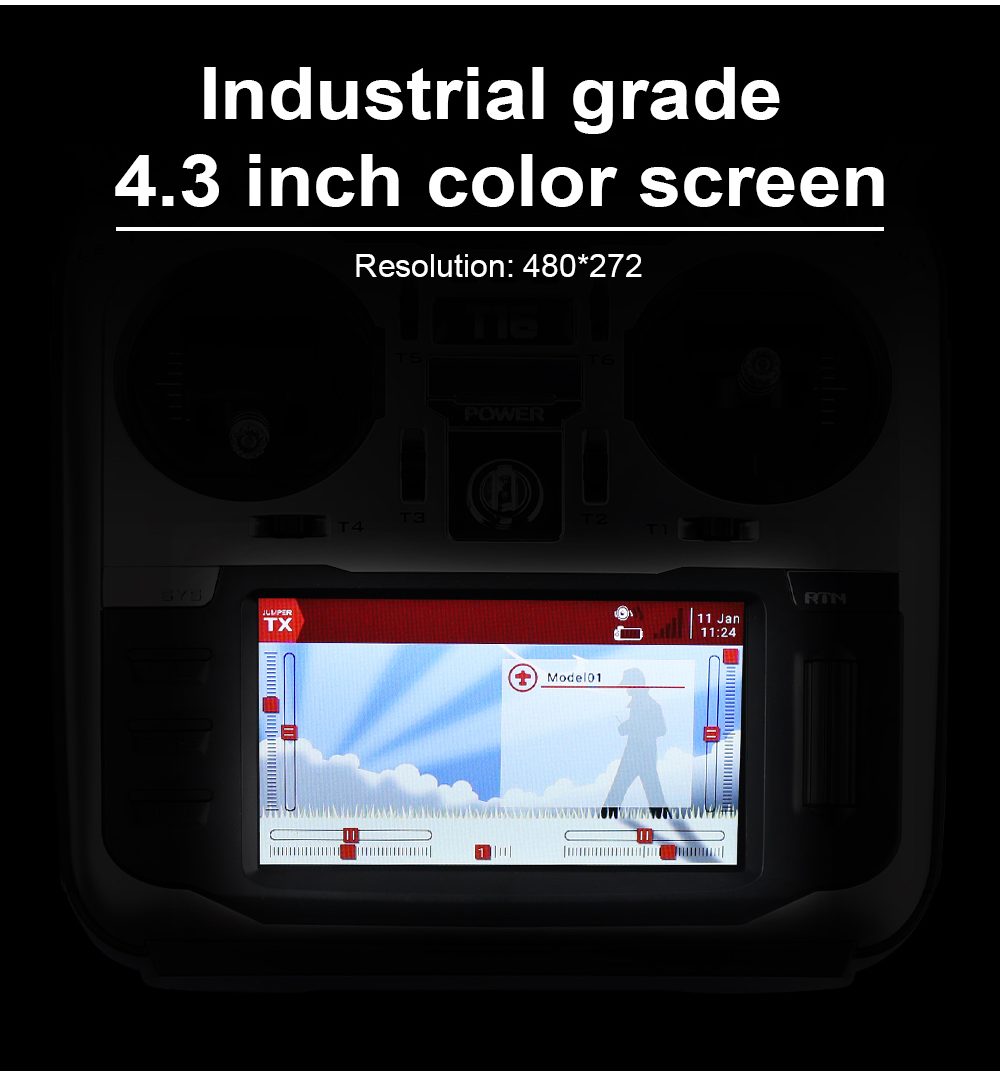 1. Type-C charging. Charging board will also available for sale.
2. Folding handle.Folding handle will sell as spare parts as well.
The folding handle will save room of bag when we fly out, and also the zipper case will be smaller.
We know that many people had their gimbals broken when they put the radio into bag, some of them is because of no enough room of the bag.
With the folding handle, there will be less gimbal breaking.
Radio Firmware – Important!  OpenTX included on these latest batch radios
Both the v2.2.3 and v2.3 versions of JumperTX available for download from the Jumper site support the internal Multiprotocol module, but both have a bug with DSM/Spektrum on the internal module only. The bug has been fixed in the source code: https://github.com/JumperXYZ/JumperTX/pull/23 but new builds have not been released by Jumper.
If you use DSM/Spektrum receivers you must either:
If you do not do this you will have problems with DSM receivers – inability to bind and/or unstable controls. You have been warned!
OVERVIEW:
T16 Pro Hall V2 with HALL Gimbals Open Source Multi-protocol Radio Transmitter JumperTX
Our vision and goal:
To create the most affordable, high-performance open source remote control on the market today. The T16 truly is the ONE radio to rule them all. With angle adjustable ultra-smooth dual bearing precision gimbals, large 4.3" display, more than ample input controls, integrated 6 position buttons for professional flight control systems, JR module bay supporting TBS Crossfire modules and many more features the T16 is a remarkable offering at this price point.
Power to the people:
Never wanting to stand still the team at Jumper looked for a way to put the maxim amount of radio in the users hands for the minimum amount of cost. With advancements in technology and materials cost there really is no reason for a high end radio to have a high end price tag and Jumper have not only proven this point but they have smashed expectations, the T16 changes everything!
Ergonomics and functionality:
The T16 has undergone extensive testing for comfort and functionality, we have taken all the feedback from our previous products along with the feedback from the community in what they expected from a radio and rolled it all in to the T16.
SPECIFICATIONS:
Size: 180*190*58
Weight: 888g
Voltage: DC7-8.4V
Current: 350mah (NO CRSF)
Channel: 16ch
FEATURES:
JP4-in-1 Multi-protocal module included. DSM2/X, FrSKY, SFHSS, FlySky, FlySky AFHDS2A, Hubsan and more
STM32F429BIT6 MCU
Industrial grade 4.3 inch 480*272 outdoor readable color screen
OpenTX firmware
Wheel menu button
Hall Sensor gimbals
USB-C charge
Folding handle
Multi-protocol transmitter module with TBS CRSF support
Removable battery
Supports Telemetry
Memory 16M (can be expanded by TF card)
Voice function
Vibration reminder function
Standard JR module slot
6-Flight Mode Buttons (for APM and Pixhawk flight controllers)
Two-color LED status display
DOWNLOAD: