FETtec KISS G4 Flight Controller + 45A 4-in-1 ESC + Spike Absorber Bundle
Check Out The MyFPV Adapter To Make Mounting Easy!
The Fettec F7 FC 30×30 and 20×20 FETtec High Performance DShot 2400 35A 4in1 ESC in one bundle for great savings!
FETtec KISS G4 Flight Controller
The FETtec FC G4 features the latest STM32G4 processor. Providing unparalleled processing power to your aircraft. Along with an MPU6000 gyro, two 5v BECs, 6-27V (2-6S) power handling, and a host of other features, the G4 from FETtec is on the cutting edge of Flight Controller technology.
Specifications
Latest STM32G4 Processor

170Mhz + Math accelerator

MPU6000

Supply voltage 6-27V (2S-6S Lipo)

2x dedicated onboard BEC (max. 600mA each)

5V BEC for RX

5V/16V BEC for VTX (switchable and real Pit*)

2x 8 pin connector for solder free ESC connection

Connector 1: ESC signal 1-4, telemetry, VCC, GND

Connector 2: ESC signal 5-8 (depending on UAV type 1-4), telemetry, VCC, GND

1x 8 pin connector for solder free VTX, cam connection and OSD or digital systems

real Pit* VCC, GND, Video in, Video out, BEC 5V/16V, VCS/TX3, RX3

2x 6 pin connectors for serials

RX1, TX1, 3.3V, VCC, 5V, GND

RX3, VCS/TX3, RGB LED, VCC, 5V, GND

1x 4 pin connector for receiver

5 UART serials

UART 1 free

UART 2 used for Receiver

UART 3 free

UART 4 used for onboard OSD, can be set free

UART 5 used for ESCs / TLM / Onewire

4 ESC solder pads (Signal/GND) in each corner

Buzzer pads

4 tiny RGB LEDs (selectable color)

Supported ESC protocols

PWM, Oneshot125, Oneshot42, Dshot150/300/600/1200/2400, FETtec Onewire

FETtec KISS firmware

Onboard OSD

Graphic OSD (STM32)

Full KISS Tuning

Filter (PIDs, Rates, Settings)
LED control (RGB LED, Racewire)
VTX
Live data graphs (Voltage, motor rpm, current, motor temp, gyro values, link quality)
KISS GPS support + live map
Custom graphic pilot logo
Stick overlay
Custom layout
can be deactivated for the usage of digital systems

Connector type: JST-SH-1mm
Dimensions
Maximum outside dimensions: 37,2 x 37,2mm, without outside tips 30 x 30mm

Mounting hole arrangement:

20 x 20mm with M2 mounting hole (expandable to M3)

30 x 30mm with M3 mounting hole

30 x 30mm mounting hole tips are removable to reduce overall FC size

Overall height: 7,9mm

Weight: 5,37g
Firmware
KISS Firmware
FETtec OSD Firmware
Downloads
Includes
1x FETtec FC G4
1x 8 pin cable (open on one side)
1x 6 pin cable (open on one side)
FETtec High Performance DShot 2400 4in1 45a ESC
FETtec ESC 4in1 high performance DShot 2400 ESC's with full sine wave control. The most powerful and reliable 4in1 esc for the Fettec FC and Kiss FC. They've put a lot of modern engineering design into their ESCs, including software made from the ground up for their FPV hardware.
Specifications

Active current limiting @ 45A
Input voltage: 3S-6S
High quality 40V MOSFETs
STM32G071 @ 64MHz
128 kHz motor PWM
Full sine wave control
Solder points for up to 5 additional capacitors
KISS FC Passthrough
Betaflight pass-through (available from 4.1)
Automatic input signal detection:

Dshot 300-2400
PWM
OneShot42 / 125
OneWire BUS with up to 8kHz looptime (one cable for all motor signals and telemetry)
in development: Crossfire, SBUS

New FETtec Firmware
FETtec Configurator for updated, configuration and telemetry. Standalone for MacOS, Windows 32 & 64 bit and Chrome Plugin
Dimensions: 38mm x 38mm
Mounting hole: 30.5 mm x 30.5 mm, M3 breakable for M4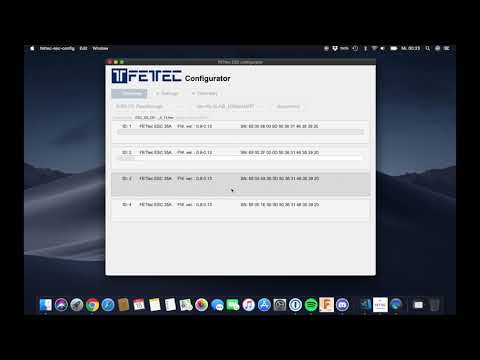 Includes
1x FETtec 45A 30×30 4in1 ESC
1x Capacitor 50V, ESC < 1ohm (477CKE050M)
1x JST-SH 8 Pin Cable
Fettec Spike Absorber
Features
well-selected TVS diodes to absorb dangerous voltage spikes to protect connected components
designed for use with an electrolytic capacitor, which can be mounted directly on it
maximum operating Voltage 25,2V (6S LiPo)
1.62g weight
Description
The FETtec Spike Absorber uses well-chosen TVS-Diodes to prevent the connected components from being damaged by huge voltage spikes. The Spike Absorber is meant to be used in addition to an electrolytic capacitor. The capacitor can be mounted directly on top of it.
It will take care that the voltage doesn't rise above a specific level. Which means it absorbs energy once the specific voltage level is reached.
On electrical power systems using brushless motors, ESCs, and LiPo batteries, high current and voltage peaks are common. The most known way to keep them in areas where they don't damage consumers that are connected to the battery is the usage of capacitors, which is in fact a good way. Capacitors dampen any movement of the voltage. They store energy if the voltage rises and supply it when the voltage falls. But in some cases, there are very short but high voltage spikes where capacitors are too slow. These spikes are mostly very short and appear in the area of some nano – microseconds, but can be easily doubled or triple the normal battery voltage. Most consumers survive a lot of them even if they are over their normal voltage rating. But if the spike is too strong, or it happens over a longer period, voltage regulators, capacitors and FETs can be damaged and fail. The Spike Absorber will absorb the energy of these spikes before they get in areas where consumers might get damage.